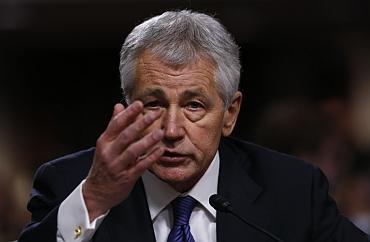 United States Secretary of Defence nominee Chuck Hagel had suggested in a previously unreleased speech that India has 'for many years been using Afghanistan to fight a proxy war against Pakistan by sponsoring terror attacks inside it'.
According to a video (external link) obtained by Adam Kredo of the Washington Free Bacon, "India has over the years financed problems for Pakistan in Afghanistan," Hagel had said during an address on Afghanistan at Oklahoma's Cameron University in 2011.
"India for some time has always used Afghanistan as a second front, and India has over the years financed problems for Pakistan on that side of the border," Hagel said in the speech.
"And you can carry that into many dimensions, the point being the tense, fragmented relationship between Pakistan and Afghanistanhas been there for many, many years," he added.
Sharply reacting to the remarks, a spokesperson from the India embassy told the Free Beacon on Monday that Hagel's remarks were not 'grounded in reality'. "Such comments are contrary to the reality of India's unbounded dedication to the welfare of the Afghan people," he said.
"We will continue to work to help the Afghan people build a democratic and prosperous future for themselves in an environment free from terror and intimidation," he told the daily.
In contrast, Hagel had termed Pakistan as a 'real nuclear power and quite unpredictable', and said that the nation is a very complicated reality in terms of atomic weapons and American assistance to Islamabad should not be 'unconditional'.
Hagel's nomination as secretary of defence has been frowned down upon by many. Republican senators had expressed concern over the views of Hagel, on several key issues, with the White House defending him saying that he is in 'sync' with the resident's policies.
Israel too had expressed concern over Hagel's nomination, with a top leader saying, "We are worried because of the ex-Republican senator's stance towards the Jewish nation."
US President Barack Obama, while nominating Hagel as the secretary of defence, had praised his 'willingness to speak his mind' and had said that Hagel 'understands that America stands strongest when we stand with allies and with friends'.
In pic: United States Secretary of Defense nominee Chuck Hagel
Photographer: Kevil Lamarque