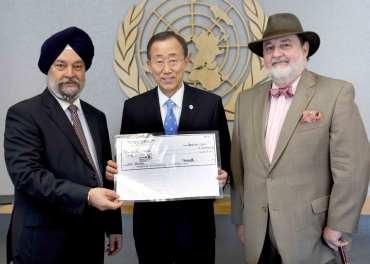 India on Friday handed over a cheque of Rs 90 crore to United Nations chief Ban Ki-moon for relief and rehabilitation of flood-affected in Pakistan, after Islamabad's insistence that the aid be routed through the world body.
Ambassador Hardeep Singh Puri, India's Permanent Representative to the United Nations, Friday handed $20 million to Ban Ki-moon as India's contribution towards the 'Pakistan Emergency Response Plan.'
The cheque was given to Ban at the UN Headquarters in New York in the presence of the Permanent Representative of Pakistan to the United Nations, Ambassador Abdullah Hussain Haroon.
The Pakistan Emergency Response Plan has been launched by the UN Office for the Coordination of Humanitarian Affairs. The floods, which began in late July, are the worst disaster in living memory for the South Asian nation, resulting in the death of more than 1,000 people and leaving millions homeless.
While handing over the check, Puri recalled the messages of solidarity, sympathy and support from Prime Minister Dr. Manmohan Singh and the External Affairs Minister, S. M. Krishna to their Pakistani counterparts in the aftermath of the devastating floods that affected parts of Pakistan in August this year.
"Natural disasters do not respect national boundaries. This is a small, but significant gesture from the highest levels of the Indian Government conveying the message that the people of India stand by the people of Pakistan in their hour of need," Puri said.
UN High Commissioner for Refugees Antonio Guterres said Thursday after a two-day visit to the flood-affected areas that the disaster is unprecedented.
"Nobody was prepared for such a level of destruction and for such difficult conditions for the people affected," Guterres said.
The cheque that India gave today is in addition to the $5 million that the Indian Government has already contributed to the World Food Programme for its relief efforts in Pakistan.
Image: Ambassador Hardeep Singh Puri (left), India's permanent Representative to the United Nations, hands over a cheque to the UN Secretary General Ban-Ki Moon. Ambassador Abdullah Hossain Haroon (right), permanent Representative of Pakistan is also seen.
Photograph: Jay Mandal/On Assignment