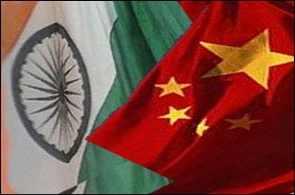 India and China on Tuesday held talks to finalise details of External Affairs Minister Salman Khurshid's visit to Beijing and Chinese Premier Li Keqiang's trip to New Delhi, a day after both sides withdrew their troops from the Depsang Valley.
Diplomats of both the countries held parlays in Beijing to finalise the programmes for Khurshid's visit commencing on May 9.
The visit was under cloud until the two sides reached the agreement to end the stand-off, which was simultaneously acknowledged on Monday. The issue is expected to figure in Khurshid's talks with Chinese Foreign Minister Wang Yi as well as Premier Li when he calls on him.
Indian officials say Khurshid's meeting with the Chinese leadership is still under finalisation. Besides the border incident, the focus of Khurshid's talks in Beijing will be to finalise the programme of Li's visit to India during which he would be visiting both New Delhi and Mumbai.
The new Chinese premier chose India as his first stop during his maiden foreign to strike a friendly chord with Indian public and leaders, which officials here hope that would not be overshadowed by a barrage of negative publicity generated by the Chinese troops intrusion into Daulat Beig Oldi in Ladakh.
Commenting on the border standoff, Chinese strategic analysts said the incident will not cast a shadow on the bilateral ties as India and China are well aware of the importance of friendly relations. The peaceful settlement of this crisis is within expectations, as China and India have developed a relatively mature mechanism to respond to such emergencies, Sun Shihai, an expert on Indian studies at the Chinese Academy of Social Sciences said.
Beijing and New Delhi launched a mechanism for consultation and coordination regarding border issues last year to deal with incidents like DBO.
Sun said that resolving the border issue will be difficult because the disputed area is large, but maintaining peace and stability in the region conforms to the mutual interest of both countries.
Pei Yuanying, a former Chinese ambassador to India, said that resolving the Sino-Indian border dispute, an issue left over by history, needs time and patience. "Border stand-offs are somewhat inevitable in the future, but they are only petty issues against the whole backdrop of thriving Sino-Indian relations," state-run China Daily quoted Pei as saying.
Fu Xiaoqiang, a researcher from the China Institutes of Contemporary International Relations, told the Global Times though it took a relatively long period to resolve the stand-off, and it showed that the two sides have the capability to handle border disputes.
Han Hua, director of the Center for Arms Control and Disarmament at the School of International Studies affiliated with Peking University, told the official daily Global Times on Tuesday that the withdrawal came as no surprise, noting that both New Delhi and Beijing are rational when handling bilateral disputes despite constant hyping of tensions by media.
According to Han, bilateral ties were tense from 2006 to 2009 due to rows over the eastern section of the China-Indian border, but have warmed up since 2010, partly because of rising disputes with China's neighbours to the east as a result of the United States pivot to Asia.
"Last fall's leadership transition in China was another turning point. The new leadership adjusted its policies and now seeks a stabilised relationship with India," Han said. "The grand strategy of China is to avoid troubled relations with its neighbours," he said.
Given current rows with Japan over the disputed Islands, there is no reason to start another row, he said. "As emerging powers, the two countries both face pressures from the West, and have the will to cooperate on a wide range of global issues. They both want stability and prioritise economic development, so they don't want to clash with each other," Han said.