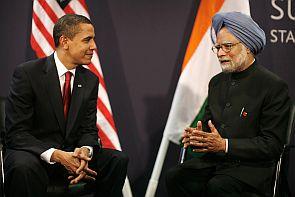 India has came out in support of US President Barack Obama's policies on Syria and Iran, saying diplomacy needs to be given a chance.
"I complimented him for his vision, for his courage in giving diplomacy yet another chance," Prime Minister Manmohan Singh told media persons in a joint media interaction with Obama inside the Oval Office of the White House, following an hour long meeting between the two leaders.
India, he said, fully supports these initiatives because six million Indians live in West Asia and the Middle East.
"They earn their livelihood there, which is an important part of sustaining our values of freedom," he added.
"Therefore, anything that contributes to peace and stability in the Middle East, in Iran, in Syria, is something which is in the interest of the global economy; it is certainly in the interest of people in the region in which I and India is placed," Dr Singh said.
Obama, in fact, took permission from Dr Singh to make a statement on the agreement reached between the US and Russia in partnership with other members of the Security Council on Syria -- eliminating its chemical weapons and ultimately having them destroyed by the international community.
"Though there are challenges ahead, this represents potentially a significant step forward," he said and hoped that the international community is not just gathering to talk but also is able to take concerted action on behalf of enforcing international norms and preserving everybody's security, including those in the region and obviously the people of Syria themselves.
"This is something that we have long sought. And the fact that we now have a framework that will be voted on, perhaps as soon as today, perhaps over the weekend or Monday, that would be legally binding, that would be verifiable and enforceable, where there will be consequences for Syria's failure to meet what has been set forth in this resolution, I think is a potentially huge victory for the international community," Obama said.

"Realistically, it's doubtful that we would have arrived at this point had it not been for a credible threat of US action in the aftermath of the horrific tragedy that took place on August 21, where chemical weapons killed over 1,000 people, including more than 400 children," Obama said.

Obama said he has always expressed a preference for resolving this diplomatically, and appreciate all international partners in working very hard over the past several days to make sure that they arrive at a resolution that not only deters and prevents additional chemical use, but actually goes beyond what could have been accomplished through any military action, and that is the removal of chemical weapons -- one of the largest stockpiles in the world -- from Syria so that they can actually be destroyed.
"We are very hopeful about the prospects for what can be accomplished, but obviously there is a lot of work to be done.
"People have been concerned about whether Syria will follow through on the commitments that have been laid forth and I think there are legitimate concerns as to how technically we are going to be getting those chemical weapons out while there's still fighting going on, on the ground," he said.