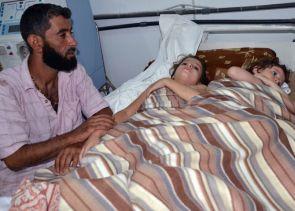 Opposing any external military intervention in Syria, India today said all parties to the conflict should join an inclusive political dialogue to find a comprehensive political solution to the crisis.
Stressing against any military action, External Affairs Minister Salman Khurshid said: "We are encouraged by the current proposal, steered by Russia, that is aimed at bringing the Syrian chemical stockpile under international control."
This proposal is in line with India's consistent stance of supporting the complete elimination of chemical weapons worldwide, he said in his address at the Shanghai Cooperation Organisation's Heads of State Summit.
India sees any move in this direction, "within the framework of the UN, as a positive development".
"We have consistently called upon all sides to abjure violence so that conditions can be created for an inclusive political dialogue leading to a comprehensive political solution, taking into account the legitimate aspirations of the Syrian people," Khurshid said.
India is deeply concerned by the ongoing conflict in Syria and is closely watching fast-paced developments in the country, he said.
Russia's proposal to bring Syria's chemical weapons under international control is expected to "reinvigorate the peace efforts towards a political solution to the Syrian conflict, including the early holding of the proposed International Conference on Syria (Geneva-II), bringing all parties to the conflict to the negotiating table", he added.
The US has been pushing for military intervention in Syria after an alleged chemical weapons attack by President Bashar al-Assad's regime killed over 1,000 people.
Meanwhile, India today welcomed Syria's decision to accede to the Chemical Weapons Convention, a move that may make international strikes against the Middle Eastern nation less imminent.
"India welcomes Syria's accession to the Chemical Weapons Convention," the External Affairs Ministry's spokesman said in a message posted on Twitter.
A statement issued by the UN General Secretary's spokesman in New York confirmed Ban Ki-moon had received a letter from Damascus informing him that President Al-Assad has "signed the legislative decree providing for the accession of Syria to the Convention on the Prohibition of the Development, Production, Stockpiling and Use of Chemical Weapons and on their Destruction of 1992".
In the letter, Syrian authorities expressed their commitment to observe obligations entailed by the Convention even before its entry into force for the country, the spokesman said.
Earlier this week, Russia asked the Syrian government to put its chemical weapons under international control and then have them destroyed to avert US-led strikes against the Assad regime in response to an alleged chemical attack that killed over 1,400 people, including more than 400 children.