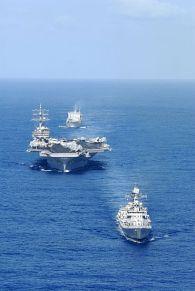 US warships deployed in the Mediterranean are ready to "strike hard" on the Syrian regime and degrade its capabilities if ordered by President Barack Obama, a top Navy official has said.
"I guarantee you that if we are called upon to strike, we will strike hard and we will strike fast," Navy Secretary Ray Mabus said.
His remarks came a day after Obama addressed the nation seeking support for "limited" military action if Syrian President Bashar al-Assad's regime refuses to give up its chemical weapons arsenal.
"As the president said last night, it (the attack) will be targeted and it will degrade the Assad regime's capabilities," Mabus said in a speech at the NationalDefenceUniversity.
"Our ships are sovereign US territory," Mabus said. "We do not take up an inch of anyone else's soil. That naval presence is what gives the president flexibility to respond to any crisis."
The US has deployed four destroyers armed with Tomahawk cruise missiles to the eastern Mediterranean after the Syrian crisis escalated. Obama had earlier said that he may launch possible punitive strikes on Syria over an alleged chemical weapons attack by the Assad regime against civilians on August 21 in a Damascus suburb.
An aircraft carrier strike group, including the carrier USS Nimitz along with warships armed with Tomahawks, was also sent to the Red Sea and is still there.
"Presence is what we do. It is who we are. We reassure our partners that we are there, and remind those who may wish our country and allies harm that we're never far away. That is American sea power," Mabus, the US Navy's top civilian official said.
Mabus' statement leaves little doubt that Pentagon planners are leaning on the Navy to lead the strike, should it be ordered, US media reports said.
Air Force warplanes can also fire missiles far from Syrian airspace, a factor that the Pentagon is taking into account, according to testimony from Army General Martin Dempsey, chairman of the Joint Chiefs of Staff.