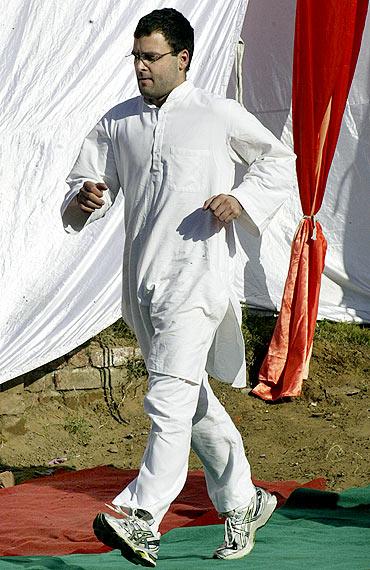 Rahul Gandhi, Congress general secretary, was in South Africa for the finals of the World Cup between Spain and Holland on July 11, according to a senior functionary of the government.
The young Congress leader seems to be a big sports buff as he had also gone for the Formula One races in Singapore last year. He also recently went deep-water diving in the Maldives.
Rasheed Kidwai, senior journalist of The Telegraph, says that Rahul is a soccer buff and a Brazil supporter. Rahul is a pistol shooter and spare-time footballer and cricketer also, he said.
According to reports even Rahul's brother-in-law Robert Vadera and his son Rehan were with him in South Africa. The Indian Embassy in Johannesburg was also asked to keep the Gandhi family members visit secret due to security issues.
The source said that Rahul Gandhi remained low profile throughout his visit and avoided any publicity.
Civil Aviation Minister Praful Patel was also seen at the semi-final and finals in South Africa. Patel, who is president of All India Football federation and a member of executive committee of FIFA, said he has watched the last five World Cup finals. Patel who was sitting in a FIFA enclosure in the stadium pleaded ignorance about Rahul Gandhi's presence in the stadium.
According to Kidwai, South African President Jacob Zuma had invited Prime Minister Manmohan Singh, United Progressive Alliance chairperson Sonia Gandhi and her son Rahul to attend the finals and the closing ceremony.
Kidwai in a report for his newspaper has mentioned an anecdote that shows that young Gandhi is keeping track of sports in India.
He wrote, 'Recently, when Indian Olympic Association chief Suresh Kalmadi called on him telling at length how preparations were on course for the Delhi Commonwealth Games, the Amethi MP had stunned him with a query: 'How many medals is our country going to win?'  
The otherwise chatty Kalmadi was said to have kept mum.