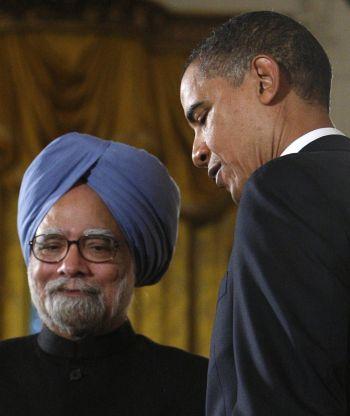 Prime Minister Manmohan Singh departed for an official visit to the United States on Wednesday morning in what could be a last opportunity to recover his crumbling legacy. A host of issues are tied to what could be accomplished on this trip; that the stakes are high is evident from how carefully the government is downplaying whether or not anything can be accomplished.
On Friday, he meets United States President Barack Obama. Among the topics for discussion will likely be the US' troop draw-down in Afghanistan. The US has been markedly unfriendly towards India's interests in a secure and independent Afghanistan after the drawdown, which Obama wishes to substantially complete next year.
Singh has to change Obama's mind about that, and remind him Pakistan is not always a reliable partner once guns and dollars are taken out of the equation.
Singh's turn towards America was the lynchpin of his first term as prime minister; it was the subtext of the civil nuclear agreement, on which he staked his government. Since then, relations have become frostier than at any time since the nuclear tests of 1998.
Various issues have led to this, not least the feeling in Washington DC that India has not met the US half-way after the nuclear agreement was finalised. India continues to suffer from a debilitating internal debate on the merits of nuclear power, which is tinged with more than a little anti-Americanism. Singh will have to summon the political courage to give Obama a guarantee that India's nuclear liability mechanisms will meet international benchmarks in order to recover the relationship. But that will cost him political capital at home.
Then there's the increasingly hostile attitude of US business, which has lobbied lawmakers on Capitol Hill to investigate claims of "discriminatory" trade practices by India.
Singh and prominent members of his entourage will have to make a start towards mending relations. A friendly US business community is what drove Indo-US relations till 2008. An angry US business community is driving relations now. This visit will have to turn one back to the other.
Singh will face the question as to whether he is willing to go to any limit to support the Indian information technology industry, which faces higher costs under new immigration legislation, or to recover the relationship with US business and government, and prevent any further laws that may harm Indian interests. Those, too, would damage Singh's legacy.
Finally, he will speak to the UN General Assembly on Saturday -- but all eyes will be on the possibility of a meeting with Pakistan's new Prime Minister, Nawaz Sharif. Whether the two men discover a rapport will be crucial to the third pillar of Manmohan Singh's legacy, his constant attempts to normalise relations with Pakistan.
Again, domestic opinion will not be broadly supportive of a friendly photo-op, given that Pakistan is still failing to satisfy the concerns many have about progress on terror and at the Line of Control. But, if Singh wishes to try and recover his legacy here, too, he will have to expend his dwindling political capital. It is a five-day trip -- long as such trips go. Particularly so, given how short the time Manmohan Singh has left to restore UPA-II's image.
Image: Prime Minister Manmohan Singh with US president Barack Obama during a meeting in Washington, DC in November, 2009.
Photograph: Jason Reed/Reuters