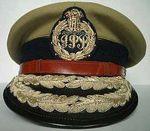 Around twenty-one Indian Police Service probationers are taking tips from police officers in Bihar on how the rule of law was enforced in the state, which was seven years ago infamous for its lawlessness.
"We are giving them an opportunity to understand how the rule of law was restored in Bihar after a bad phase of lawlessness," Bihar DGP Abhyanand said on Friday after he addressed the IPS probationers.
Abhyanand said that IPS probationers were keen to learn hard facts to deal with lawlessness, as experimented successfully in Bihar.
According to officers at the police headquarters, for the first time in nearly two decades the National Police Academy chose Bihar to start the east zone training for a group of 21 IPS probationers, including three women.
Deputy Inspector General (Human Rights) Ravindran Shankaran, who interacted with
IPS probationers said that they were more interested to know the innovative initiatives and strategies that helped the Bihar police bring about the turn around.
"Though it is not easy to give them insight into the turn around, we have highlighted the high rate of conviction through speedy trial and how the police targeted organised crime in the state," said Shankaran.
The Bihar police have been lauded for improving the law and order, its action against criminals including gangs involved in kidnapping, extortion, murder and other serious crimes.
In nearly seven years, more than 75,000 criminals, including politicians and lawmakers, have been convicted and punished for various crimes in Bihar -- a state that was once notorious for its lawlessness -- thanks to speedy trials by fast track courts, police officials said.
"It is a success story of the Bihar police. We have succeeded in controlling crime through speedy trials," he said.
For the first time in the history of the state, over a dozen members of Parliament and state legislators have been convicted and punished for various crimes.