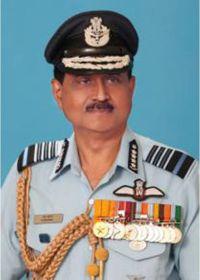 The Indian Air Force is operating with "much less" aircraft than its authorised strength of 42 combat squadrons and in case of any further delay in the proposed 126 fighter jet deal, the force levels in the service will "go down rapidly", its chief NAK Browne said on Friday.
"The authorisation is for 42 squadrons of fighter aircraft. Presently, we are much less than that... In the 12th and 13th Plan (2012-2022), we have to maintain a certain force level because that is where the maximum draw down is taking place. So, we lose a number of squadrons in these two plan periods," he said in New Delhi in his annual press conference.
"In case, Medium Multi-Role Combat Aircraft does not come to us in the end of the 12th Plan (2017), then our force levels will to go down rapidly. That is what we have to prevent. We have to maintain force levels to provide deterrent capabilities to the country," Browne said.
The Air Force is in the process of procuring 126 Rafale combat aircraft from French firm Dassault Aviation and had chosen it after an extensive trial phase in April 2012.
Asked if the recent death of Joint Secretary Arun Kumar Bal, who was dealing with acquisitions, may result in delay in the project, Browne said, "We have lost a big player. It is a setback for us not only in the MMRCA (project) but everything we are procuring. Now, whosoever comes in his place, will take 3-4 months to settle down."
Bal passed away on Tuesday after suffering a heart attack and was the in-charge of all the procurement projects of the IAF in the Defence Ministry.
To a query on a possible timeline for the completion of the project, he said the IAF cannot set one as Hindustan Aeronautics Limited and Dassault Aviation have to sign a joint cooperation agreement for producing the aircraft in the country.
Browne also said that the Indian Air Force is ready to assist army in its operations against heavily-fortified infiltrators in Keran sector of Kashmir.
"We are all monitoring it (the situation). It's a very small and localised operation. They (army) have UAVs (unmanned aerial vehicles).
"All the means are fully available with army. If they still need some assistance, we are there to provide it. There is no problem," Browne told journalists.
Army was fully capable of dealing with the situation, the IAF chief said, while suggesting it was unlikely that IAF would be asked to get involved.
"Air Force does not get into things like this (Keran operations). Air Force gets into things which are much, much bigger," he said.