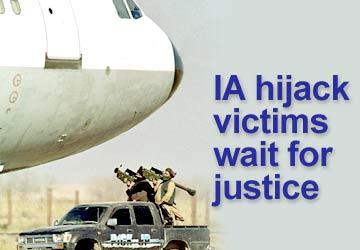 Five years ago today, December 24, an Indian Airlines Airbus was hijacked to Kandahar in Afghanistan. After a week of national anguish and trauma, three of the most wanted terrorists in India's custody were exchanged for the passengers, crew and aircraft on New Year's eve.
Over the next few days, rediff.com will revisit that grim episode and find out what really happened during those seven harrowing days in a special series.
IC-814 was on a Kathmandu-New Delhi flight when it was hijacked on December 24, 1999 over Varanasi and eventually taken to Kandahar, Afghanistan.
The hijackers wanted New Delhi to release several score terrorists in Indian custody in exchange for the aircraft, its passengers and crew.
The plane was taken to Kandahar after a brief halt at the Amritsar, Lahore and Dubai airports. It refuelled in Lahore, and some passengers, including women and children, were released in Dubai.
While one passenger Rupin Katyal was killed, 151 people, including 26 women and children, and 11 crew members were released on New Year's eve after India set free three terrorists, Masood Azhar, Mushtaq Ahmed Zargar and Omar Ahmed Sheikh.
New Delhi reportedly paid the then Taliban government in Afghanistan $25,000 to permit a relief Indian Airlines Airbus carrying negotiators and medical personnel to land in Kandahar.
Central Bureau of Investigation agents investigating the case say they have evidence against the seven hijackers -- Ibrahim Athar, Sunny Ahmed Qazi, Zahoor Ibrahim, Shahid Akhter Sayed, Shakir, Yusuf Azhar and Abdul Rauf. All of them are currently in Pakistan, CBI sources say.
| | |
| --- | --- |
| | Also Read |
| | |
Yusuf Azhar and Abdul Rauf, Masood Azhar's brothers, are believed to have been masterminded the conspiracy.
The CBI has arrested three Indian nationals, Abdul Latif, Yusuf Nepali and Dilip Kumar Bhujel, who allegedly helped the hijackers by arranging fake Indian passports and their stay in India and Nepal.
The CBI has filed a case against the ten men in a special court in Patiala.
Deputy Inspector General Loknath Behra told rediff.com: "We have enough evidence against them. The court's decision is likely to come by April."
If convicted, the three men in CBI custody could face life in prison.
But what happens to those who hijacked the plane? Nothing, say CBI officers. Despite having proof, the agency has been unable to get them extradited from Pakistan.
"We have telephone records that prove their involvement. We have examined about 300 witnesses. The three accused in our custody have given magisterial confessions (regarding the involvement of the seven). All this proves their crime," says an official investigating the case.
CBI agents also interrogated Mullah Wakil Ahmad Muttawakil, foreign minister in the Taliban government, in Afghanistan last year, but they are tight-lipped about what Muttawakil revealed. "It may affect the friendly ties between India and Afghanistan," they said.
| | |
| --- | --- |
| | Also Read |
| | |
The CBI believes Muttawakil helped the hijackers to escape to Pakistan.

Muttawakil, who was the go-between between the hijackers and Indian negotiators Vivek Katju and Ajit K Douval, assured the Indians that the hijackers would not leave Kandahar airport till the hostages were flown out of Afghanistan.

But no sooner had the exchange of hostages for terrorists taken place, the hijackers drove away victoriously in a jeep provided by the Taliban.

Muttawakil is currently in the Federal Bureau of Investigation's custody.

The FBI is conducting a parallel investigation because a US national, Jeanne Moore, was one of the hostages.

"We have exchanged information with the FBI, inspected many places around the world and finally filed the charges against the ten accused," a CBI officer told rediff.com

The prosecution's last witness will be cross-examined in January after which the court will question the three undertrials. The defence will then be asked to produce its witnesses. Defence lawyers have been able to get any witness so far.

This will be followed by the final arguments and the verdict.

The judge hearing the case is scheduled to retire in April.

The seven hijackers can be convicted only if they are brought to India. In the unlikely event of that occurrence, they would have the right to ask the court to cross-examine all the witnesses, which may delay the conviction by four to five years.

The CBI had sought Interpol's help to get the hijackers arrested. New Delhi also requested Islamabad to hand the men over.

"Extradition is a formal request. These are diplomatic issues and India has a certain policy regarding this," Behra said. "We had asked Pakistan to hand over these people. But Pakistan says they are not in its territory."

What this means is that for those taken hostage on that winter afternoon five years ago and for Rupin Katyal's family it will be a long wait for closure and justice.

Photograph: Saeed Khan/AFP/Getty Images | Headline Image: Rahil Shaikh