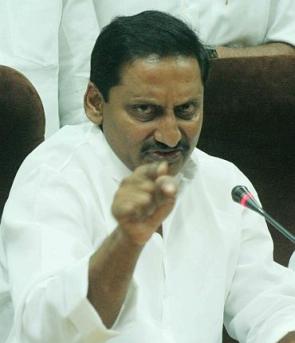 Andhra Pradesh Chief Minister N Kiran Kumar Reddy has told the Congress leadership that he would not be a party to the division of the state.
"I will not be a party to any destructive decision," Kiran reportedly told All India Congress Committee general secretary Digvijay Singh, hours before the latter attended the Congress Core Group meeting at the prime minister's residence on Friday evening, sources close to him said.
Having realised that the Congress high command has made up its mind in favour of creating Telangana state, the chief minister first asked it to postpone any announcement at least till the completion of elections to local bodies.
But when he was told that the decision could not be put off any further, Reddy told Digvijaya Singh that he would not be a party to any "destructive" decision that would harm the interests of both Andhra Pradesh and the Congress, the sources said.
On his return to Hyderabad from New Delhi, Reddy on Saturday met a few Members of Legislative Council and Members of Legislative Assembly close to him and narrated details of his interaction with Digvijay Singha and also Sonia Gandhi.
"They have taken a decision but we made them put off an announcement for now. We have to first complete the local bodies' election," the chief minister reportedly told the legislators.
Elections to gram panchayats will be complete by July 31 but a notification for elections to the Urban Local Bodies is expected to be issued after August 15.
Polls to ULBs will be complete by the second week of September and immediately thereafter the state will have to go for elections to mandal and zilla parishads in accordance with the Supreme Court order.