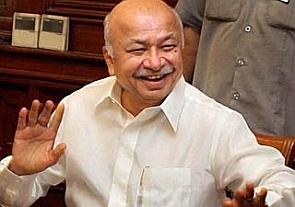 In remarks that could raise the hackles of many in Congress, Union Home Minister Sushilkumar Shinde on Saturday said he would be happy to see Nationalist Congress Party chief Sharad Pawar become the prime minister, describing the Maratha strongman as his "political guru".
"I would be happy if Pawar becomes the PM. He is my political guru. I entered politics because of him," Shinde said in an interaction with editors of a Marathi newspaper.
"Everyone has ambition. He has been trying (to become the PM) since 1992," he said.
Shinde's remarks came ahead of a crucial Congress session on January 17, amid reports that party vice-president Rahul Gandhi could be named its prime ministerial candidate at the meet.
"There is no reason for (having) two views on this. I have said this many times, even on the national platform," Shinde said.
Pawar has been trying to become the PM since 1992, claimed Shinde, adding that he had been a "victim of Delhi politics".
Pawar had left the Congress over the issue of Sonia Gandhi's foreign origin in 1999 to form the NCP. He has made it clear that he will not contest the 2014 Lok Sabha elections and instead intends to take the Rajya Sabha route to Parliament.