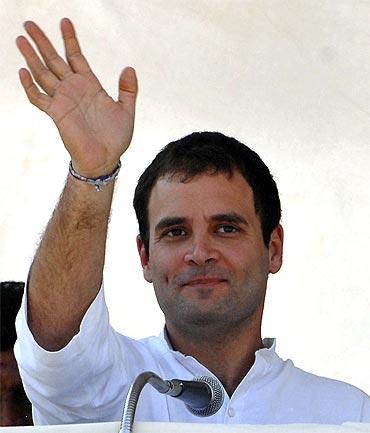 Reaching out to the people of Kashmir, Congress leader Rahul Gandhi [ Images ] today said he wants to understand their 'pain' and help connect them with the development of the country.
On a visit to Kashmir after a year, Gandhi said the youth in the state should join the development process taking place in the country in various sectors such as education, health, infrastructure and electricity.
"I want to establish a relationship with you. A lifelong relationship," he said addressing a public gathering, while recalling the close ties between Sheikh Abdullah and his great grandfather Jawaharlal Nehru [ Images ] and his father Rajiv Gandhi's [ Images ] strong links with Farooq Abdullah [ Images ].
Gandhi said that he wants to work with state Chief Minister Omar Abdullah [ Images ] similarly for betterment of the state. The Congress General Secretary was the guest of honour during the foundation lying ceremony of a tunnel here to provide all weather connectivity between Srinagar [ Images ] and Leh.
"I have two goals here. First is to establish a relation with you and understand your pain deeply.... Second goal is to connect Kashmiri youth with the development process," Gandhi said, adding that the nation is growing rapidly and the same should happen in Kashmir.
Union Minister for Road Transport and Highways C P Joshi, New and Renewable Energy Minister Farooq Abdullah and Omar Abdullah were present during the occasion.
Promising to return to the state soon, he also said that government is taking measures to ensure all weather connectivity between various parts of Jammu and Kashmir [ Images ].
"I was told that Ladakh is disconnected from rest of the state during winters. I have been told that steps are being taken to address this issue," Gandhi said.
"The country is progressing and Jammu and Kashmir should also progress the same way in sectors like education, health, infrastructure and electricity. I appeal to the youth of the state to join hands in the progress of the state and the country," Gandhi said.
Recalling his family ties with Kashmir, the Lok Sabha member of Parliament from Amethi said, "My family has come from Kashmir and we are Kashmiris. No power can separate us."
Gandhi said during his visit to Kashmir last year, he was told that Ladakh and Sonamarg remain cut off from the rest of the state due to snowfall. "This project is a step towards connecting the areas," he said.
The 6.5 km long two-lane tunnel at Z-Morh is being built at a total capital cost of Rs 2,717 crore. It will be constructed by Border Roads Organisation in five years time with a concession period of 20 years.
BRO Director General Lieutenant General S Ravi Shankar who was present during the ceremony said, "We are hopeful of completing the tunnel ahead of the schedule. It is expected to be completed by Aug 2018."
The tunnel will be built on build, operate and transfer (annuity) basis. Earlier addressing the gathering, Farooq Abdullah applauded the young Congress leader and said, "I can see  a day when Rahul will become the Prime Minister of the country."
On his part, Omar Abdullah described the Congress leader as his "personal friend".
The chief minister said the dream to connect Sonamarg to Leh via Kargil [ Images ] is going to get fulfilled. "People here face much hardship, especially during winters as they remain cut-off from the rest of the state or they have to leave their shelters... The tunnel will be completed in five years and after that work will begin on Zozila tunnel," he said.
Road Secretary A K Upadhyay, meanwhile, also shared the Ministry's plans to construct another tunnel at Zozila to connect the state capital with Kargil and Leh.
With the project cost of Rs 5500 crore, the 13 km long tunnel will ensure all weather connectivity between Srinagar-Leh and Kargil, he said.