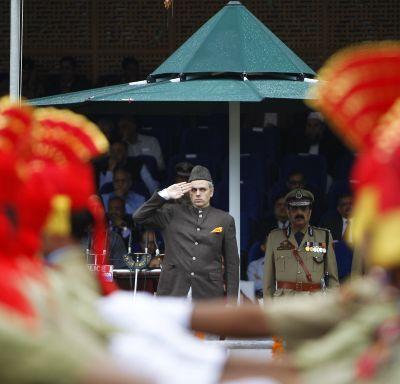 Bomb blasts on Thursday rocked Assam and Manipur during Independence Day functions injuring one person even as chief ministers asked extremists to abjure violence and return to the mainstream.
In Srinagar, Chief Minister Omar Abdullah in his Independence Day address advocated resumption of dialogue with Pakistan as well as with the separatists to resolve the political issues of Jammu and Kashmir.
"Jammu and Kashmir is a political problem and can be resolved only through a process of dialogue. We have to start the dialogue process both internally as well as bilaterally (with Pakistan) for addressing this issue," he said at the Bakshi Stadium.
He said Prime Minister Manmohan Singh and his Pakistan counterpart Nawaz Sharif should take steps for earning each other's confidence to carry forward the dialogue process between the two countries.
Omar also expressed concern over the recent ceasefire violations by Pakistan, saying such incidents were not good for the dialogue process. "You violate the ceasefire, our people suffer. We retaliate, your people suffer. Guns cannot be a solution," he said.
The celebrations passed off peacefully in the state with no report of any untoward incident from anywhere in the Valley.
In Bongaigaon in Assam, the anti-talk NDFB (Sangbijit) faction triggered serial blasts injuring one person in Kokrajhar district where the outfit exploded two grenades while another was triggered in neighbouring Chirang district.
Bipul Brahma (45) was injured in one of the explosions in Kokrajhar. Another unexploded bomb was recovered from the district and defused.
A powerful bomb exploded a few minutes before the celebrations of Independence day in Manipur but no casualty was reported. The bomb, planted by insurgents, went off at around 8.20 am at Moirangkhom petrol pump area, about 400 metres from the 1st Manipur rifles parade ground ahead of the I-Day function.
The site of the explosion was about one km from the residence of Chief Minister Ibobi Singh, who asked insurgents to give up violence and join the national mainstream by participating in implementation of various development programmes for the welfare of the people.
In Ranchi, Jharkhand Chief Minister Hemant Soren announced distribution of land to the landless rural population and appealed to the Naxalites to abjure violence as his government was ready for a dialogue.
Tripura Chief Minister Manik Sarkar said the state is marching ahead in terms of development, but at the same time, the enemies of development are also active.
Nine insurgent outfits of Tripura including the banned National Liberation Front of Tripura had given a call to observe the day as black day.
In Panaji, Goa Chief Minister Manohar Parrikar assured the citizens that his government will not allow dance bars in the state and will weed out drugs and prostitution from the tourist destination.
Maintaining that the nation is "restless" for a change, Gujarat Chief Minister Narendra Modi launched a blistering attack on Prime Minister Manmohan Singh, challenging him for a public debate on pressing issues while accusing him of taking a 'weak' stance on Pakistan
In a veiled attack on Modi on Gujarat's industrial development model, Bihar Chief Minister Nitish Kumar said in Patna that inclusive growth model being implemented in his state was a better alternative as it caters to aspirations of all people.
In Chennai, Tamil Nadu Chief Minister Jayalalithaa said the Centre's move to introduce the Food Security Bill in Parliament would affect the public distribution system in the state and asserted her government would continue to implement the universal PDS.
Image: Jammu and Kashmir Chief Minister Omar Abdullah salutes during Independence Day celebrations in Srinagar.
Photograph: Danish Ismail/Reuters