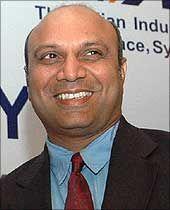 Human Resources and Development Minister M M Pallam Raju, who was minister of state for defence when the deal for procuring 12 choppers from Italian firm Finmeccanica was signed in 2010, Wednesday said he can "vouch for the integrity" of former Indian Air Force chief S P Tyagi, whose name has surfaced in the scam.
"I think it was somebody who was distantly related to him... from what I read in the media. But I can vouch for his integrity," Raju told reporters in New Delhi reacting to a query on allegations about Tyagi.
He also said Defence Minister A K Antony acts tough when such allegations are made and the ministry acts "immediately" if any deviation from procedure brought in to its notice.
"Antony has a zero tolerance policy as far as these things are concerned. And anything is, if any deviation from procedure, or if any irregularities brought to the notice of the government, we act on it immediately," he said.
Former Air Chief Marshal Tyagi has refuted allegations that he was paid bribes to swing a Rs 3,600 crore deal for procuring choppers from Italian firm to ferry VVIPS.
In February 2010, India had inked the Rs 3,600 crore deal to acquire the 12 three-engine AW-101 helicopters from AgustaWestland for IAF's elite Communication Squadron, which ferries the President, PM and other VVIPs.
Names of Tyagi's three cousins Julie, Docsa and Sandeep Tyagi have also figured in reports suggesting that they had also a role to play in clinching the deal. He has denied that his relationship with his cousins had any business dimension.
The deal came under the scanner of Italian agencies after allegations of kickbacks given in India surfaced.
The agencies arrested Giuseppe Orsi, the head of Italian defence and aerospace giant Finmeccanica on Monday as part of their probe related to international corruption.
After the arrest of Finmeccanica's head Tuesday in Italy in connection with the controversial deal, the Defence Ministry here ordered a CBI probe into the charges.