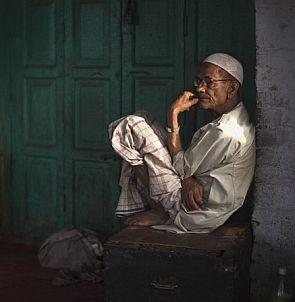 Celebrations have not stopped since the creation of Telangana as the 29th state. But Muslims in Hyderabad are not too happy with the final outcome.

The decision to place the control of law and order in Hyderabad, which has been declared as a joint capital for the next 10 years, with the Centre has set the cat among the pigeons among some members of the minority community.

Their main worry: How can they guarantee their safety if the Bharatiya Janata Party's s Narendra Modi becomes the prime minister post 2014 Lok Sabha elections?

Latheef Mohammad Khan, head of the Muslim Forum for Telangana, spoke to rediff.com's Vicky Nanjappa about the need to immediately delete this clause from the Telangana Bill.

"While we welcome the creation of the state, our happiness was short-lived when it was decided that law and order would be under the Union government."

"What if Modi becomes the prime minister of the country? This would mean that his government will have control over the law and order in Hyderabad. Can he guarantee the safety of Muslims?"
"The Muslim population of Hyderabad, which is nearly 50 per cent, will not feel safe and hence this clause needs to be struck down immediately."

"Even MIM chief Asaduddin Owaisi is against this. We will move the Supreme Court on this issue."

"The Telangana which we expected was something else and today it appears to have become more of a problem for us. Under the existing situation, the life and liberty of Muslims cannot be guaranteed."

"The Muslims never got their fair share under the successive governments in Andhra Pradesh and we felt that if Telangana is created we could get a better deal. However, some clauses like law and order and joint capital have defeated the cause for us."

"The formation of Telangana should have ended the struggle of 58 years. Looking at the manner in which it has been handled in some departments, Muslims feel that the real struggle will begin now."

"The fact that Hyderabad will remain a common capital will only mean that the revenue will have to be shared and this again would not ensure a better life for all of us. Hyderabad is the economic engine and the government should have understood the people of Telangana need the revenue more."