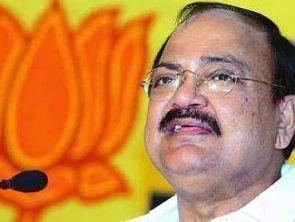 The Bharatiya Janata Party supported the Telangana bill in Rajya Sabha onThursday but sought amendments to ensure the Seemandhra region got justice and a "defective" legislation was not passed.
The principal Opposition party also deplored government for badly handling the passage of the bill without taking the stakeholders on board.
After a dozen adjournments in the Upper House during the day, discussion on the bill began late in the afternoon with senior member Venkaiah Naidu initiating the debate amid din.
"Telangana and Andhra Pradesh are both brothers and are Telugu speaking. Telangana people want Telangana, we are saying yes... We are not dividing the country, we are only dividing a state for speedy development," Naidu said.
He blamed Congress for delaying creation of Telangana and playing "vote-bank" and "opportunistic" politics on the issue and said it is the "real culprit" in this whole process.
Pressing for a Constitutional amendment to ensure that law and order and policing in Hyderabad be entrusted to the governor, Naidu said, "This Constitutional amendment is required...Don't bring a defective law."
He also sought "permanent solution" to address the concerns of Seemandhra region.
Naidu said while Seemnadhra would get 60 per cent of the population of Andhra Prdesh, its revenue would be only 40 per cent of the total which would create problems in payment of salaries, dues and interest payments.
Listing out the loss for the Seemandhra, Telangana and Rayalseema regions, Naidu said only Hyderabad was surplus on revenue which would make Telangana a surplus state.
Naidu sought amendments to give special category status to Seemandhra and adequate financial package to address the revenue loss of the region.
Supporting his colleague, Leader of the Opposition Arun Jaitley said, "We are in favour of creation of Telangana. But we want a lawful and legally sustainable bill be passed."
"I am deeply disappointed the way the UPA government has done the creation exercise," he said, highlighting expulsion of members in the other House, the state assembly rejecting the proposal and others.
Image: Telangana and Andhra Pradesh are both brothers and are Telugu speaking, BJP leader Venkaiah Naidu said in RS