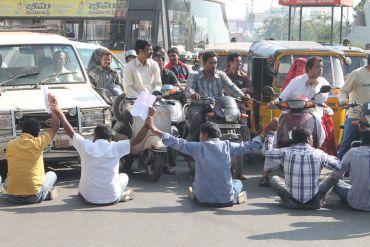 A 23-year-old post graduate student of Osmania University was allegedly strangulated to death by her friend at his residence in Chatrinaka area of Old City, police said.
A case of murder has been registered against the victim's former classmate Shiv Kumar, who was also pursuing a PG course at the Osmania University, they said, adding a hunt is on to trace Kumar who is absconding.
The woman's body with her limbs bound was found last night from Kumar's residence, police said, adding they suspected she might have been killed at least two days back.
Police have ruled out sexual assault on the woman citing a preliminary medical report.
"There is no such indication as per the preliminary medical report, however, the post-mortem report revealed of "unforced" sexual intercourse", they said.
According to a police officer, the victim and Kumar developed friendship when they were classmates studying B.Ed course last year.
Earlier, OU students blocked roads at Afzalgunj on Tuesday afternoon demanding immediate arrest of Kumar.
Photograph: Osmania University students blocked roads at Afzalgunj in Hyderabad demanding the arrest of the accused.
Credit: SnapsIndia