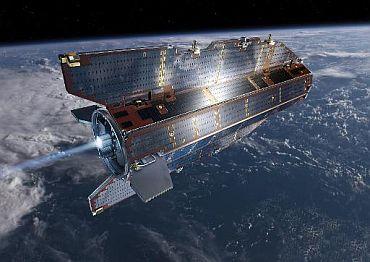 A big one ton European satellite is about to fall out of orbit and is expected to hit the earth on Sunday night or early Monday, it has been revealed.
Jeffrey Kluger, editor-at-large for Time magazine told CBS News that people should be "a little bit worried, but not unduly so."
He said that whenever you have one ton of hardware coming down, no one knows where, that's not a good thing.
Kluger said that experts knew this was going to happen as it was flying low.
He said it only has a small, putt-putt ion engine on it that's good for fine maneuvers, but it's not good for getting it out of harm's way, so this one was definitely going to come down at some point or other.
The journalist said that the experts predict that this satellite could drop "at any arbitrary point on the surface of the world," but there is little worry of being hit because 70 percent of the world is water and of the 30 percent of the Earth that is land only a small percentage of that is inhabited.
GOCE-which stands for Gravity field and steady-state Ocean Circulation Explorer-was launched in 2009 to map the Earth's gravitational field. It ran out of fuel last month, ending the mission.
Since then, the satellite has been spiraling steadily downward.
Scientists said that the 1,100-kilogram (2,425-pound) satellite already has fallen to an altitude of about 105 miles and is coming closer every minute.
Once it reaches an altitude of 50 miles, the satellite will break apart and most of it will burn in the atmosphere.
However, the space agency said that about 20 percent of the spacecraft's original mass could survive and reach the ground.