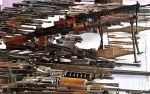 A joint operation by the 26 Assam Rifles and the Special Narcotics Police, Mizoram, successfully recovered arms and ammunition on Thursday evening from Km stone four on Lengpui airport road near Aizawl.
This was one of the biggest arms cache in the history of Mizoram bordering Myanmar and Bangladesh.
The recovery included 23 AK 47 rifles, one Combat Browning Automatic Rifle, one 5.56 Automatic Light Machine Gun, 86 rounds of AK 47, 67 rounds of CBAR, 24 rounds of 5.56 automatic weapon and 30 magazines.

Robi Chakma, Soboz Chakma and Moni Tripura from North Tripura were arrested and their links with the under ground groups is being ascertained.
Defence spokesman Colonel S S Phogat said the arms and ammunition were hidden in an abandoned electric transformer. Based on specific intelligence from Tripura-based Assam Rifles Sector, the Mizoram Range Assam Rifles launched a search operation along with the police.
Some insurgent outfits in the Northeast use jungle routes along the international border to sneak in arms and ammunition with the help of international arm smugglers. There have been instances in the past where security forces have intercepted arms consignments being carried to other parts of the Northeast through Mizoram.