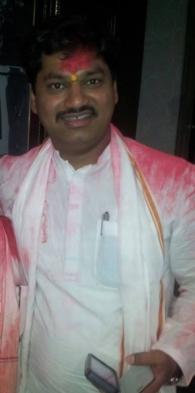 On July 2, senior Bharatiya Janata Party leader Gopinath Munde's estranged nephew Dhananjay Munde quit the saffron party to join the Sharad Pawar-led Nationalist Congress Party.
In a telephonic interview with rediff.com, Dhananjay squarely blames his uncle for sidelining him in the state BJP for the benefit of Munde's daughter Pankaja Munde-Palwe, who is currently a member of the Maharashtra Legislative Council from Parli, the BJP leader's home town.
When rediff.com asked Gopinath Munde about the reason behind his nephew's defection to the NCP, he refused to comment on the issue.
"Mala Kahich bolaycha nahi," (I don't want to speak anything at all on the issue), said an angry Munde and hung up. Repeated calls to reach him proved futile as he switched off his phone.
Here are excerpts from the interview with Dhananjay:
Why did you join the Nationalist Congress Party?
On Tuesday, I joined the NCP. Since the last 16 months, I am with the NCP. Technically, I was the BJP's Member of Legislative Council. So I have no personal enmity with the BJP.
Now that you have officially joined the NCP, what is your future in that party? Will you be contesting the assembly election against Pankaja Munde-Palwe as is being reported in some sections of the press?
If the party (NCP) asks me to fight against Gopinathji Munde, I will fight. If the party asks me to fight from Parli Vidhan Sabha (legislative assembly) constituency against Pankaja, I will fight against her too. Now, I am just a party worker and whatever the party's orders are, I will follow them.
But why did you quit the BJP? What went wrong between you and Gopinath Munde?
There are a lot of reasons and I won't be able to explain the issues in a short span of time.
Could you list a few main reasons for quitting the party? Why are you so angry with your uncle?
Since the past 20 years, I have been a loyal worker of the BJP. In 1996, I became the president of BJP's Maharashtra students' wing (Akhil Bharatiya Vidyarthi Parishad). After that, twice, I was the vice president of BJP's Maharashtra Yuva Morcha.
Later, I served as the general secretary of BJP's Yuva Morcha twice. After that, I was made the president of the BJP's Maharashtra Yuva Morcha. I have been very consistent in my efforts to increase the party's strength in Maharashtra.
The BJP party rule states that whoever quits his position as the president of BJP's Yuva Morcha becomes a state general secretary of the parent body, that is, the BJP.
In my case, only because of my uncle (Gopinath Munde's influence), the BJP did not make me the party's state general secretary.
Before that, during the 2009 Lok Sabha elections, he had announced my name as the BJP's candidate for the Parli assembly constituency and made me work for his election campaign.
But just a month before the elections, he said he would nominate Pankaja to fight from Parli and not me. Despite breaking his promise, which he had made publicly, we put a lid on the issue and allowed Pankaja to contest from Parli.
Later, (former BJP national President Nitin) Gadkariji, on Mundeji's behalf, came to me and said that I will be accommodated in the district Zilla Parishad, of which I was already an elected leader. I told Gadkariji that I was not hankering after any post but I wanted an answer as to why I was denied the ticket to contest from Parli and the seat went to Pankaja.
I have still not got my answer from any BJP leader, including Gadkariji.
Gadkariji, however, said that he would accommodate me in the state legislative council.
The problem is potcha te potchach asta ho (preference is always given to the biological offspring). My father (Panditrao Munde, Gopinath Munde's elder brother) spent 40 years of his life to see to it that Mundeji emerges as a major leader in the state.
There is an allegation that NCP leader and Deputy Chief Minister Ajit Pawar played a role in your defection to the NCP? What do you have to say about that?
For your kind information, Ajit Pawar, till the very last day, was in favour of Gopinathji and I patching up. He looked at it as a family matter. Ajit Pawar never urged me to break away from the family. He was just trying to help me because he knows what kind of a worker I am.
He always maintained that if I were satisfied with my family then he would like me to stay with the BJP and not split from the family.
It was alleged that Dr Sudam Munde, who was allegedly involved in a number of female foeticide cases in Parli, was a relative of Gopinath Munde? Later, Munde told rediff.com that Dr Sudam Munde's son was an office bearer of NCP in Parli. What do you have to say about this?
That is not true at all. In fact, for the last 25 years, Dr Sudam Munde and his wife Saraswati have a very cordial relationship with Gopinathji Munde.
For 15 long years, Saraswati Munde had been a director in Gopinathji's bank, the Vaidyanath Co-operative Bank in Parli.
Image: Dhananjay Munde | Courtesy: https://www.facebook.com/dhananjay.munde/