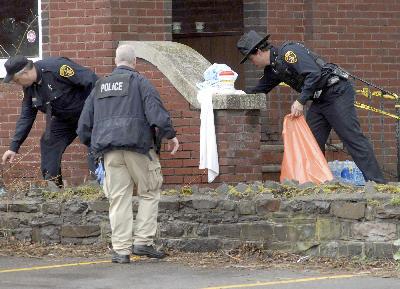 At least 14 people, including a gunman, were killed in a shootout and hostage drama at the American Civic Centre on 131 Front Street in Binghamton, New York on Friday.
The police told the local press that the shooter was Jiverly Voong (also known as Linh Phat Voong), who lived in nearby Johnson City and who had lost his job at IBM recently.
Voong, who was reportedly wearing a green nylon jacket and dark glasses, blocked the back door of the center, which addresses immigrant needs, then came in from the front, and shot the two receptionists. One was killed and the other feigned death. Later, when Voong was gone, he crawled to a desk and called 911. Voong, meanwhile, went to a citizenship class where students were taking a test and began shooting.
The people trapped inside the Centre allegedly hid in a boiler room and in a closet in the basement. By noon, 10 of them were released. Another 10 were released at 12.40 pm. When it ended, the crisis had lasted over four hours -- from 10:30 am to 2:40 pm.
Voong, 42, allegedly had with a satchel with ammunition, Binghamton police chief Joseph Zikuski told the local paper, the Press and Sun Bulletin. Two handguns were also found at the scene but there was no rifle found, as Binghamton Mayor Matthew Ryan had announced earlier.
Zikuski said no one taken from the building is a suspect, including two men who were removed in plastic handcuffs. A report of a man fleeing the building was false, Zikuski said.
A student from Binghamton University was being treated at the emergency room at Our Lady of Lourdes Hospital in Binghamton. Most of the students left the university on Friday morning as the university is closed for the Easter holidays. Binghamton University, in nearby Vestal, is part of the State University of New York and is a major destination of Indian students.
The American Civic Association helps immigrants and refugees with immigration and personal counseling, resettlement, citizenship, family reunification and translators. It also intervenes with emergencies, including fighting, hunger and homelessness. The ACA had citizenship classes scheduled for Friday.
Pratik Tanna, president of the Indian Graduate Students' Association at Binghamton University in nearby Vestal said that many students did live in the area but confirmed that no one had been affected.
The civic centre, a single-story building opposite the Susquehanna river, on 131 Front Street, helps immigrants and refugees, among other things, with matters involving immigration law, counseling, resettlement, citizenship and family reunification.
Given the current toll, this is the sixth worst mass shooting in the US. The worst to date is the killing of 32 people by Seung-Hui Cho at Virginia Tech on April 16, 2007. The October 16, 1991 killings by George Hennard in Killeen, Texas, claimed 23 people before he killed himself.
A security guard killed 21 people at a McDonald's in San Ysidro, California on July 18, 1984 before the police shot him dead. And student Charles Whitman, shooting from a clock tower at the University of Texas on August 1, 1966, claimed 16 lives before being shot dead by the police. Before the shooting spree, he had killed his wife and mother-in-law.
On April 20, 1999, two students at the Columbine High School in Columbine, Colorado, Dylan Klebold and Eric Harris, shot 13 students and a teacher before killing themselves.
In a statement, New York Governor David Paterson said it was a tragic day for New York. He said he had directed the state police to assist the Binghamton Police Department.
'I speak for all of New York when I offer my prayers for the victims and families of this tragedy,' Paterson said.
Image: Police clean up in front of a building next to a shooting scene outside the American Civic Centre on Front Street in Binghampton, New York
Photograph: Hans Pennink/Reuters