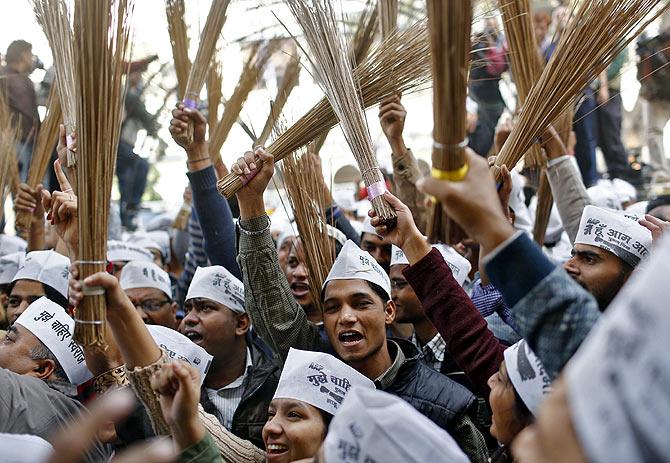 The home ministry will soon inspect the books of accounts of the Aam Aadmi Party in connection with alleged illegal foreign funding to it.
The move comes after the AAP sent replies to queries from the home ministry regarding violation of Foreign Contribution Regulation Act while receiving funds from abroad.
"We need further interaction with AAP as we need some clarification on their replies. We will inspect their books of accounts," a senior official said.
The home ministry probe into the foreign funding to the AAP came following a directive of Delhi high court in response to a public interest litigation.
The AAP, which is all set to form the government in Delhi, said it was ready for any kind of probe and insisted that it had taken donations only from Indians, residing in the country or abroad. "If we are found guilty of any wrongdoing, we will accept double the punishment," AAP leader Yogendra Yadav said.
The AAP had said it has collected about Rs 19 crore till November 8 as donations from 63,000 people including a host of NRIs. t has claimed to have received donations ranging from Rs 10 to several lakhs, from rickshaw pullers to traders and industrialists to fight the polls and bring a "graft-free" administration.
Former Chief Minister of Delhi Sheila Dikshit had questioned the source of funding of the AAP, whose main election plank was to check corruption.
The AAP had a stunning debut in the recent Delhi assembly election, winning 28 out of 70 seats.
AAP chief Arvind Kejriwal will be sworn in as the chief minister of Delhi on Saturday after the Congress with eight MLAs extended outside support to the nascent party.
Image: Supporters of the Aam Aadmi Party celebrate after its historic win in the Delhi assembly polls