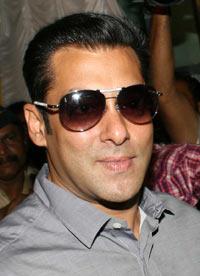 Bollywood actor Salman Khan is all set to appear in person before a sessions court in Mumbai in the 2002 hit-and-run case on March 25. He would return from the United States on Monday night and appear before the court on Monday, sources close to the superstar told PTI.
The case would come up for the first time before the sessions court after a magistrate transferred the matter to that court by charging the actor with a more serious charge of 'culpable homicide not amounting to murder'.
Along with the prosecution's case against Salman, the court would also hear his appeal against the Magistrate's order, invoking the charge of 'culpable homicide not amounting to murder' against him which attracts a punishment up to 10 years in prison.
Sessions Judge U B Hejib has scheduled the hearing for March 25, and the 47-year-old had been asked to be present on that day, the sources said.
It would be Salman's first appearance before the sessions court after Bandra Magistrate's court referred the case to the Sessions Court (because the offence he is now charged with is serious).
Earlier, the Magistrate had asked Salman to appear before the sessions court on March 11, but he did not go to the court that day as the case was yet to be assigned to any judge.
Sources said as there would be a fresh trial, evidence produced before the magistrate's court would not be considered and prosecution may have to adduce evidence afresh.
One person was killed and four injured when a Land Cruiser, allegedly driven by Salman, ran over people sleeping on pavement outside a bakery in suburban Bandra in the wee hours of September 28, 2002.