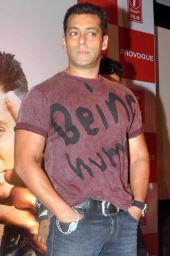 Actor Salman Khan did not appear before the sessions court on Monday in the 2002 hit-and-run case as his case has not yet been assigned to any judge after it was committed by a magistrate to the sessions court.
The magistrate had asked him to appear on March 11 but his case is yet to be assigned to a judge, sources said.
On March 8, the actor's lawyer Ashok Mundargi had urged the sessions court to hear the issue of Salman's retrial in the accident case, along with his appeal against the magistrate's order invoking the charge of culpable homicide not amounting to murder, which prescribes a jail term of upto 10 years.
Additional Public Prosecutor Nazirali H Shaikh said he had no objection to matters being clubbed together.
The actor's application will be placed before Principal Judge Swapna Joshi who might either hear the matter herself or assign the case to some other judge and also fix a date for the hearing.
In his appeal, the actor argued the magistrate had erred in invoking the charge of 'culpable homicide not amounting to murder' (Section 304 part II of the Indian Penal Code) in the hit-and-run case of 2002, terming it as "bad in law". The offence under this section is to be tried by a sessions court.
Earlier, he was tried by a magistrate under a lesser charge of causing death by negligence (Section 304 A of the Indian Penal Code), that provides for a maximum punishment of two years years in jail.
After examining 17 witnesses, the magistrate had come to the conclusion that the charge of culpable homicide was made out against the actor and transferred the case to the sessions court for retrial.
Salman's lawyer argued the magistrate's order was "erroneous, bad in law and contrary to evidence on record".
He said the magistrate had failed to appreciate that he (Salman) had neither the intention (to kill people) nor the knowledge that his rash and negligent driving would kill a person or cause injury to four others.
One person was killed and four were injured when the Land Cruiser vehicle allegedly driven by the actor crushed a group of people sleeping on the pavement outside a bakery in suburban Bandra in the wee hours of September 28, 2002.