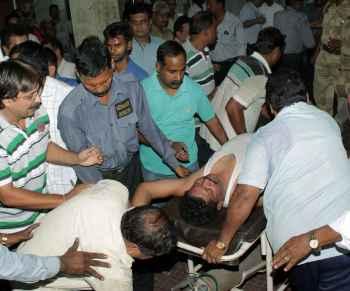 Union Steel Minister Narendra Singh Tomar on Friday announced that a high-level committee will be constituted to probe into the leakage of toxic gas at SAIL's Bhilai Plant in Chhattisgarh in which six people were killed and about 30 others injured.
The minister also announced a compensation of Rs 25 lakh for the next of kin of the five deceased employees, including two deputy general managers, and Rs 10 lakh for the family of a contract employee who died in Thursday's incident.
"A high level committed will be constituted by the Union government within two days to investigate the incident. No SAIL officer will be inducted in that committee," Tomar told reporters after visiting the Jawaharlal Nehru Hospital and Research Centre in Bhilai.
The committee will submit its report within 30 days, he said.
"Those who will be held accountable for this, action will be taken against them," he added.
"Although the state government has ordered a magisterial enquiry into the mishap and SAIL is also doing internal probe into it, the Union government feels that these would not be enough," he said.
"Taking lesson from such incidents the decision has been taken to constitute a high level probe committee to avoid the repetition of such instances," he said.
Tomar also asked SAIL Chairman C S Verma to provide a job to a member of the family of the deceased in the plant.
Tomar's visit was scheduled at around 1 pm Friday afternoon but due to bad weather condition in Gwalior he could not reached Bhilai on time, he said apologising for the delay.
He further expressed his condolences to the families of deceased in the incident and prayed for the speedy recovery of the injured.
Earlier Tomar reached Sector-9 hospital Bhilai at around 11:30 pm along with Chief Minister Raman Singh, Union Minister of State for Steel Vishnudeo Sai and other state ministers.
On Thursday evening, the gas leakage from the blast furnace-GCP occurred after a breakdown in the water pump house no.2 resulting in death of six persons, including 2 DGMs, and injuring about 30 others.
Those deceased have been identified as Deputy General Manager BK Singh, 56, Deputy General Manager NK Kataria, 56, Master Technician A Samuel, 48, Senior Operator Yarad Ram Sahu, 53, Assistant Fire Station Officer Ramesh Kumar Sharma, 58, and contract labourer Vikas Verma.
A senior plant official told PTI that of the 24 persons admitted in normal wards on Thursday, 21 have been discharged while the condition of 5 out of six people admitted in the ICU is stable.
The incident has partially affected the production in the plant and maintenance work is on to resume the operation smoothly, the official said.

Image: An injured employee being shifted to a hospital following a gas leakage at Bhilai Steel Plant
Photograph: PTI