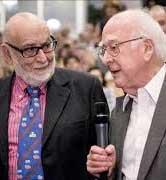 François Englert and Peter W Higgs were jointly awarded the Nobel Prize in Physics 2013 on Tuesday for the theory of how particles acquire mass.
They were awarded "for the theoretical discovery of a mechanism that contributes to our understanding of the origin of mass of subatomic particles, and which recently was confirmed through the discovery of the predicted fundamental particle, by the ATLAS and CMS experiments at CERN's Large Hadron Collider," the jury said.
In 1964, they proposed the theory independently of each other (Englert together with his now deceased colleague Robert Brout).
The laureates will receive their prize at a formal ceremony in Stockholm on December 10, the anniversary of prize founder Alfred Nobel's death in 1896.
The prize amount of SEK 8 million ($1.25 million), to be shared equally between the Laureates.
About the Nobel Laureates
François Englert:
Born 1932 in Etterbeek, Belgium, he received his Ph.D. 1959 from Université Libre de Bruxelles, Brussels, Belgium. Professor Emeritus at Université Libre de Bruxelles, Brussels, Belgium.
Peter W Higgs:
Born 1929 in Newcastle upon Tyne, UK, he received his Ph.D. 1954 from King's College, University of London, UK. Professor emeritus at University of Edinburgh, UK.
Image: Nobel Laureates François Englert and Peter W Higgs