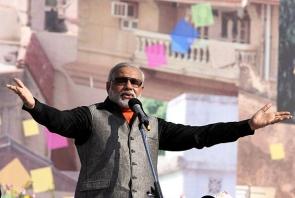 To strengthen Narendra Modi's efforts to bring victory for the Bharatiya Janata Party in the 2014 Lok Sabha elections, the party has decided to build a team of over one million people to spread the party's message to voters. These supporters, not necessarily party members, will use various methods, including SMS and social media, to reach out to voters.
Apart from contacting more people through these mediums, the information technology team will also provide assistance to first time voters and youngsters to enroll on the voters' list.

Senior BJP leaders said this strategy would click because Modi was the most popular leader of the party and had a huge fan following on social media. According to them, the party will be able to increase its voter share substantially from the 19 per cent voter share which it got during the 2009 and 2004 general elections.

"The idea is to start a positive campaign and not only talk about the failures of the United Progressive Alliance government because people already know about the misdeeds of the Congress party," said a senior BJP leader.

Since the million-strong team will not be BJP members, there are chances that some of the over enthusiastic members might not follow the party's dictum. "But the party will not be responsible for their actions because they will not be members of the party," the BJP leader added.

The party plans to carry out campaigns in Hyderabad, Bangalore, Gurgaon, Bhopal, Mumbai, Jaipur, Lucknow, and Chennai to get in touch with potential supporters of the BJP and Modi.

"The theme of the recent meeting of the information technology team of the BJP was to start campaign and build strategy to achieve Mission 272-plus seats in the Lok Sabha election. The party is tired of discussion about getting 180-plus seats or reaching the 200-mark in the general election, so we have finally decided that BJP must work to achieve more than 272 seats in the election. The party has already started work in 21 states and three Union territories to achieve the mark," said the BJP leader.