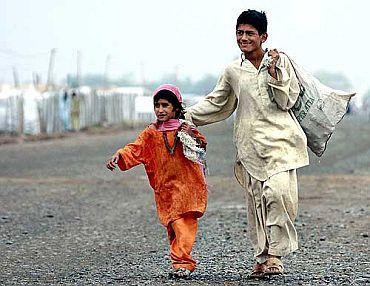 The United Nations on Tuesday issued an appeal for $537 million to take care of the immediate needs of more than one million people displaced by military operations against the Taliban in northwest Pakistan.
The requirement was laid out in the Pakistan Humanitarian Response Plan for 2010 that would cover a period of six months, the UN said in a statement.
The plan was framed in consultation with UN humanitarian agencies, national and international NGOs and federal and provincial governments in Pakistan.
A total of 3.1 million people were displaced last year when the Pakistan Army launched operations against the Taliban in the Swat valley and adjoining tribal belt, including the militant stronghold of South Waziristan Agency.
The funds are needed to coordinate humanitarian activities and implement humanitarian projects that will benefit Internally Displaced Persons who fled hostilities in the North West Frontier Province and the tribal belt, the UN said.
The funds will also help support displaced people, who had returned to their homes.
Martin Mogwanja, the UN Humanitarian Coordinator for Pakistan, said aid groups are expecting contributions from the international donor community that will enable them to continue their essential assistance in the NWFP and the tribal areas for at least another six months.

Besides providing direct relief assistance to the displaced people, the funds are needed for distribution of food, rehabilitation and reconstruction of damaged infrastructure, including homes, schools and health facilities and assistance to farmers who lost their crops due to hostilities.
The largest share of the requested funds -- $195 million -- will be required for food-related projects as a large part of the vulnerable population will still be dependent on continuing food assistance.

The UN said last year's response plan enabled humanitarian agencies to help over four million people. At the height of the crisis in June 2009, the funds allowed the humanitarian community to support 35 relief camps with a total population of around 250,000.
Another 4.3 million people were provided with more than 330,000 metric tonnes of food.
As of December 31, 2009, the required funds for last year's humanitarian appeal stood at $680 million and donors eventually contributed $485 million or 71 per cent.
"Considering that the number of IDPs from Aurakzai Agency has risen nearly tenfold in the last two months, the emergency in Pakistan seems far from over.
I urge the international donor community to keep up their contributions to enable the humanitarians to continue assisting the people in need in Pakistan," Mogwanja said.

Photograph: Ali Imam/Reuters