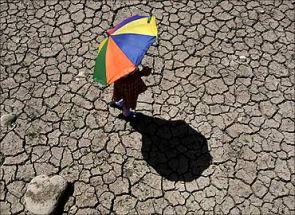 With reports of more than two hundred fresh deaths on Sunday due to heat wave and sun stroke in Andhra Pradesh, this year's summer is turning out of be the deadliest in more than a decade now.
While the state government has confirmed only 524 deaths since April 1, the local media reports say that nearly 800 people have died only last week when the state was wilting under a maximum temperature of more than 47 degrees Celsius in parts of Telangana and coastal Andhra region.
In 2003, when the highest temperature was recorded in the state the number of deaths were lesser. The last time the state witnessed large scale deaths due to heat wave was in 1997 when 1,300 people lost their lives.
According to the official press note of the Department of Disaster Management, Guntur recorded the highest number of 95 deaths followed by 75 in Prakasham and 60 in East Godavari.
On Sunday, Tuni in East Godavari and Visakhapatanam recorded the highest temperature of 47 degrees. Kakinada and Vijaywada were sizzling at 46 degrees and it was 45 degrees in Hanmakonda and Ramagundam. The situation had slightly improved in Hyderabad where the maximum temperature was hovering around 42 degrees.
Andhra Pradesh government has announced an ex gratia of Rs 50,000 to the kith and kin of the victims of the heat wave. The state government has also appealed to the center to declare the heat wave a natural calamity.
The government has also urged the people not to venture out between 10 am and 4 pm when the heat wave conditions will be more intense.
In much awaited good news the Indian Meteorological Department has announced that the monsoon will cross in to the Indian mainland from Kerala coast on June 3 and will reach Andhra Pradesh in the second week of June. The weather office said that monsoon was progressing well and it had reached the eastern-central Bay of Bengal.
Meanwhile, Hyderabad's famous fish medicine will be distributed on June 8 and 9, marking the arrival of monsoon season. The Bathini Goud family of Hyderabad distributes the fish medicine and thousands of people consume it with the belief that it will help in treatment of asthma and other respiratory problems.
Bathini Harinath Goud said that fish medicine will be distributed from 1 pm on June 8 at the Exhibition Grounds in Hyderabad.