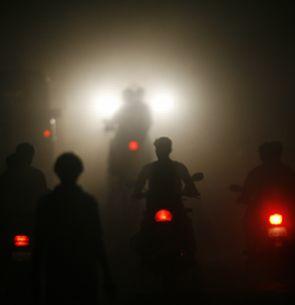 The city government and police chief were on Wednesday directed by the Delhi high court to explain the steps taken by them to prevent bikers from performing stunts in public places including near India Gate, where a teenager lost his life during firing by cops on stunters last month.
A bench of Acting Chief Justice B D Ahmed and Justice Vibhu Bakhru issued notice to the Centre, the Delhi government and the police commissioner and sought their responses by October 23 on a Public Interest Litigation seeking action against such bikers."The police is to file affidavit explaining the measures which they adopt to stop such bikers from performing stunts," the bench said.
The order came on the PIL filed by Hari Kishan Dayal, a city-based retired professor, who said he was aggrieved by "lawlessness" in Delhi and the "vulnerability" of men and women here due to such bikers.
Seeking strict action against them, the PIL said "every year these anti-social elements go on rampage on their bikes, by over speeding and performing stunts on roads and harass the general public."
"In spite of prior information, the police do not make adequate arrangements to stop them from violating law and troubling the commuters." The petition, filed through counsel Pradeep Arya and Monica Arora, said that due to the failure of the police to stop such bikers, a 19-year-old boy lost his life last month.
The counsel said that incidents of bikers performing stunts on roads are on the rise and it is not only hazardous for them but also endangers lives of others on the road. The plea alleged that despite claims by the police, the situation on the ground has not changed since the December 16 gang rape incident and police continues to be "insensitive".
"The environment in public places, roads and transport is as unsafe as ever and the criminals have an utter disregard for the law," the petition said. The petition also said, "These bikers do dangerous stunts on the road and assault men, women.... They openly flout the traffic rules and mock the law and order of the capital of India. Commuters on road are horrified, totally helpless and fear for their life."
According to the petitioner, the worst hit areas are India Gate, Connaught Place, ITO crossing, Bahadur Shah Zafar Marg, Pragati Maidan, Sunder Nagar, Delhi Gate and the adjoining areas. The traffic often comes to a standstill in these areas due to the bikers, the plea said.