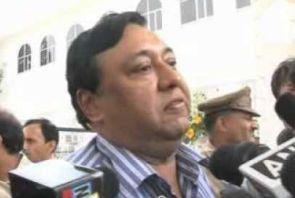 In a reprieve from Tuesday's harsh order of arrest for allegedly committing contempt of court, Uttar Pradesh Principal Home Secretary R M Srivastava got a reprieve when a division bench of the Allahabad high court on Wednesday stayed the operation of the single-bench.
The contempt order was stayed by a bench comprising senior judge Justice Uma Nath Singh and Justice Mahendra Dayal.
The key question of providing 'free' security of the 'Y' category had however been left open.
Earlier on Tuesday, another single-judge bench had ordered arrest of principal home secretary R M Srivastava for non compliance of the high court's order to provide 'Y' category security to Ramveer Upadhaya, a minister in the Mayawati regime.
Only after the entire state government machinery got into action and the home secretary tendered an unconditional apology that the judge granted reprieve to Srivastava who was allowed to leave the court at 4 pm. He was however given a day's time to submit an explanation to the court.
On Wednesday morning, the state's law officials moved a review application before a division bench, that eventually came to the government's rescue.
Interestingly, Ramveer Upadhaya, who held the all important energy portfolio in the Mayawati regime, has a shady track record. Sone of his actions were being currently investigated by the state Lokayukta.
Known for his outlandish lifestyle, Upadhaya was very upset when the Akhilesh Yadav government decided to withdraw his security after reviewing the actual security threat to different politicians. Upadhaya was enjoying 'Z' level security considered it as some kind of demotion in status as security has become like some kind of a status symbol by most politicians in UP.
Since the SP government found no justification for acceding the former minister's insistence on continuing with the 'Z' level security or even providing him a 'Y' level security cover as both were clearly meant only for those facing terrorist threat.
Yet, the Akhilesh regime provided him special security with five armed men, against a prescribed fee. The former minister found this "offending" and therefore moved the high court, seeking 'Y' category security cover without any payment of fee.
While conceding the former minister's demand for both 'Y' level and 'free' security, the high court disapproved the idea of paid security -- terming it as "purchase of security from the government."
Image: Videograb of UP Principal Home Secretary R M Srivastava