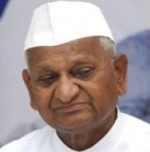 In a bid to rejuvenate his movement, Anna Hazare on Friday decided to expand his core team by inviting prominent citizens like former Army chief Gen V K Singh besides considering formation of anti-corruption centres at district level.
At a meeting held in Ralegan Siddhi, Hazare said he wanted to have a more inclusive core group having members with experience in a variety of fields including policy making, activism, corporates, judiciary, police and electoral reforms.
"The movement will now be a registered one. Not like earlier. It will be a trust. There will be a code of conduct. It is not free for all type. We have learnt from past experiences. It will have its headquarters
in Ralegan Siddhi and other centres will act as support centres," activist Kiran Bedi, who attended the meeting, told PTI. She said Hazare will be sending letters inviting several eminent people in the coming days to join his core team.
Besides Gen Singh, those who will be approached by Hazare to join the movement include activists P V Rajagopal and Rajender Singh, former IPS officer Prakash Singh and media personality Minhas Merchant.
Former Team Anna members like Justice Santosh Hegde and agriculture expert Devender Sharma, who have not taken a political plunge, will also be approached, Bedi said. "The movement will act as a think tank on policy making. This is an inclusive movement. He wants the movement to act as an apolitical watchdog," Bedi said.
Image: Anna Hazare