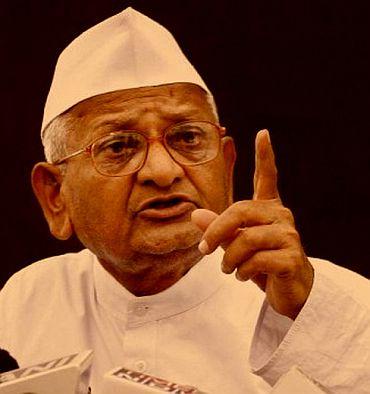 Anna Hazare on Tuesday started his indefinite hunger strike here to press the government for the immediate passage of the Jan Lokpal Bill in Parliament.
"I offered prayers at the local temple before beginning the fast and asked god to give the government subuddhi (conscience) to pass the Jan Lokpal Bill," Hazare told reporters, minutes before commencing the fast.
Talking to PTI, Hazare said, "Jan Lokpal Bill will be big step towards nation-building."
Accusing the Congress of "betrayal", he said time has come for the United Progressive Alliance government to deliver on its promise or quit.
The social activist, who had shot to national limelight with his fasts in Delhi over the issue, has chosen Yadav Baba temple in his native village Ralegan Siddi as his protest venue this time.
Hazare said the Congress should understand the reality after the serious drubbing it received in the just-concluded assembly elections and ensure the passage of the Lokpal Bill in the winter session of Parliament which is underway.
Last week, he had told reporters that Parliamentary Affairs Minister V Narayanasamy had sent a letter detailing steps taken by the government to bring in the Lokpal Bill.
"If Prime Minister Manmohan Singh can pledge to get the Prevention of Communal Violence Bill passed in Parliament, why can't he do the same for the much-delayed anti-graft law?" Hazare asked.
Recalling his earlier hunger fast in Delhi, Hazare said, "Sonia Gandhi wrote a letter saying that the government is ready to bring the Jan Lokpal Bill and asked me to end the fast. I trusted her and I ended my fast."
"I didn't know that this UPA government will betray the public and me," he said.
When asked whether Aam Aadmi Party chief Arvind Kejariwal is welcome to Ralegan Siddhi to support his fast, the Gandhian said, "Everyone, including Kejriwal, is welcome. The only condition is that they must come without the banner of a political party."