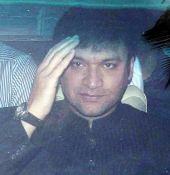 A local court in Andhra Pradesh on Monday extended till February 5 the judicial remand of Majlis-e-Ittehadul Muslimeen legislator Akbaruddin Owaisi, accused of sedition and criminal conspiracy for his "hate speech."
The Majlis-e-Ittehadul Muslimeen leader, who is presently lodged in Adilabad District Jail since his arrest on January 8 by Nirmal Police from Gandhi Hospital in Hyderabad, was produced before the Additional Judicial First Class Magistrate court in Nirmal which extended his judicial custody till February 5.
He was later shifted back to the jail, police said.
FIRs were registered against Owaisi in Nirmal town of Adilabad and Nizamabad districts after the MIM legislator, who is the party's floor leader in Andhra Pradesh assembly, allegedly used inflammatory and derogatory language against a particular community during his public speeches last month.
The Osmania University police in Hyderabad and Kadapa police booked him subsequently, following a court directive.
The Nirmal police have already questioned Akbaruddin after taking him into police custody, though they said he did not cooperate during custodial interrogation.
The court had earlier allowed police's petition to take the voice sample of Akbaruddin and fixed February 5 as the date for recording his voice, which will be done in the open court in the presence of experts from the Forensic Science Laboratory.
Complaints have been filed against Akbaruddin in regard to the same speeches in various police stations in Hyderabad and other parts of the state.