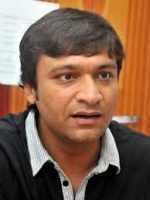 All India Majlis-e-Ittehadul Muslimeen legislator Akbaruddin Owaisi, who faces 'hate' speech cases at Nirmal in Adilabad district and also in Nizamabad district of Andhra Pradesh, was granted bail on Friday by different courts.
The court of the first additional sessions judge in Adilabad granted conditional bail to Akbaruddin and directed that he should not enter Nirmal town, participate in public meetings or incite communal feelings.
The court asked him to surrender his passport until further orders and was asked to submit two sureties of Rs 25,000 each.
On Thursday, Akbaruddin's counsel had sought bail for his client on health grounds and argued that the police had completed investigating the case after recording his voice.
Earlier, in the day, the first additional district Magistrate court in Nizamabad town allowed Akbaruddin Owaisi's bail plea on the condition that he should cooperate with the investigation officer. The judge also asked him to produce two sureties of Rs 10,000 each for the bail.
The police had booked suo motu cases in Nirmal in Adilabad and Nizamabad districts against the legislator after he allegedly used inflammatory and derogatory language against a community during his public speeches in December last year. He also faces charges of sedition and waging war against the nation among others, under relevant sections of Indian Penal Code.
Akbaruddin, the All India Majlis-e-Ittehad-ul Muslimeen's floor leader in the ndhra Pradesh Assembly, was arrested by the Nirmal police from GandhiHospital in Hyderabad on January 8 and was lodged in Adilabad District Jail since January 9.
Police officials in Nirmal and Nizamabad have already tested Akbaruddin's voice and taken samples to match his voice with that on the videotapes of his alleged hate speeches which the MIM leader has been accused of delivering at Nizamabad and Nirmal in December last year.