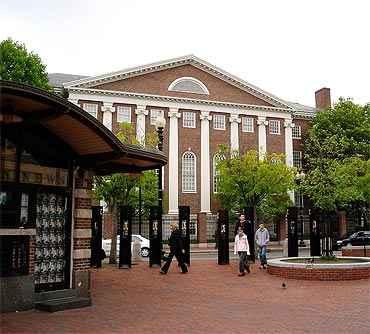 Several buildings in the Harvard University campus in New York were evacuated and searched after an unidentified man told the university police over phone that he had planted bombs on the campus.
The police later gave an all-clear after searching a number of campus buildings in response to the threat it received on Saturday.
Harvard University Police Department spokesperson Steven Catalano said in an email to the university community that the campus buildings were safe adding that "no information was found to substantiate the threat" but the buildings were searched "out of an abundance of caution."
Authorities said that while campus buildings are safe, the search for the origin of the threat remains active.
Alarms sounded in multiple Harvard Yard buildings, which are currently occupied by high school students attending Harvard Summer School, before they were evacuated, the Harvard Crimson reported.
According to spokesperson for the Cambridge Police Department Jeremy Warnick, police found a suspicious device during the search in a building but that item was found to be a discarded birdhouse.
Local police were working with federal authorities, including the FBI, to determine who had placed the threatening phone call.
Warnick said investigators were looking into a suspicious Twitter message that apparently took responsibility for the threat.
The threat was not the first for Harvard campus in recent months.
In December, an unfounded bomb threat caused the evacuation of multiple campus buildings, disrupting final exams for hundreds of students.
Eldo Kim, a Harvard College sophomore at the time, has been charged with making that threat.
Kim, who admitted to making the threats in a sworn affidavit, has not returned to class since the charges.
Image: Harvard University