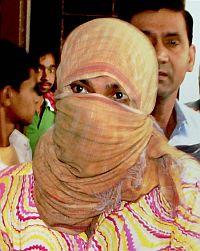 Mother-in-law of Manoj Kumar, who was arrested for allegedly raping a five-year-old girl in Delhi, on Sunday said he should be hanged for the "bestial act", while his wife sought stringent punishment for him if the charge was true.
"He (Manoj) should be hanged for the bestial act," the 22-year-old youth's mother-in-law Nirmala Devi told PTI.

Manoj Kumar was arrested by a Delhi Police team with the help of district police from his in-law's house in Chiknouta village in Muzaffarpur, about 50 km from Patna, late Friday night.
The youth's wife Archana Devi, who is in deep shock over the incident, said if the charge was true, her husband should be given stringent punishment.
Archana and Manoj had a love marriage at Suga temple in Muzaffarpur a year ago.
His father-in-law Bindeshwar Sah is in a state of shock and did not open his betel shop near Chandni market in Muzaffarpur since Saturday.


People of Chiknouta under Aurai police station, about 10 km from the district headquarter, were fuming.

Many of them said Manoj should have been killed in the village itself for "insulting us".
Manoj Kumar's native Bharthua Panchayat in the same district has taken a decision to socially boycott the family.

His father, who runs a juice shop in Delhi, had migrated to the national capital around a decade ago while his grandfather and grandmother continue to live there