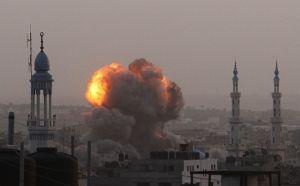 Hamas on Sunday agreed to a 24-hour UN-brokered humanitarian truce after initially rejecting it that led to Israel resuming its military strikes in Gaza as the 20-day conflict killed 1,060 Palestinians and 46 Israelis so far, including an Indian-origin soldier.
"As a preparation for the end of Ramadan and in response to the UN mediation and also regarding our people's living circumstances, we have agreed with all Palestinian factions to give a 24-hour humanitarian ceasefire starting from 14.00 on Sunday," Hamas spokesman Sami Abu Zuhri said in a statement.
Israel late last night had extended by another 24 hours the truce announced on Saturday, but Hamas had rejected it saying no ceasefire is valid without Israeli troops and tanks withdrawing from Gaza and that it would only halt rocket attacks on Israel once the displaced were allowed to return home.
Earlier, the Israeli cabinet while announcing the ceasefire had said that the army would act if it is breached by Hamas.
Hamas had said in a statement that "no humanitarian ceasefire is valid without Israeli tanks withdrawing from the Gaza Strip and without residents being able to return to their homes and ambulances carrying bodies being able to freely move around in Gaza".
Hamas fired several rockets at Israel from the Gaza Strip, after the initial 12-hour truce ended.
It also accused Israel of using previous ceasefires to prepare for more attacks and claimed that there had been truce violations on Saturday.
During the original 12-hour ceasefire, Palestinians frantically scoured through rubble with medics saying over 130 bodies had been retrieved across the Gaza Strip.
The health ministry in Gaza said 1,060 Palestinians, mostly civilians, have been killed and about 6,000 wounded since Israel launched its Gaza offensive on July 8.
Meanwhile, 46 Israelis have been killed in the fighting in the Gaza Strip aimed at ending rocket fire against Israel and destroying a sophisticated network of cross-border tunnels.
Sergeant First Class Barak Refael Degorker, a 27-year-old Indian-origin reservist from the town of Gan Yavne, was severely injured in the mortar fire overnight and later succumbed to his wounds, the Israeli army said.
Photographs: Yasser Gdeeh/Reuters