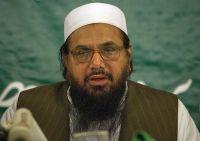 Lashkar-e-Tayiba chief and 26/11 attacks mastermind Hafiz Muhammad Saeed has said that 2001 Parliament attack convict Afzal Guru was executed merely to satisfy the "ijtimai zameer" (collective conscious) of the Indian nation that can only be satisfied with blood.
But Guru's death has brought new life and vigour to the freedom movement in Kashmir, Saeed added.
"The peaceful movement took the shape of an armed struggle when Maqbool Butt was assassinated, while the execution of Afzal Guru has revitalised the locals to such extent that I am seeing them going towards their destination -- the liberation of Kashmir," he also said.
During an interview with a local news channel, Hafiz Saeed said that Afzal Guru was innocent and nothing was proved against him.
"The execution took place just to satisfy the collective conscious of Indians. I am astonished that their collective conscious is merely satisfied with blood in the form of killing and executing people."
Saeed, who also heads Jamaat-ud-Dawa, said that Pakistan has recognised Kashmir as disputed territory in the United Nations Security Council, "so the time has come to play its role further and discuss the killing of innocent people at different international forums".
"Pakistan should highlight the execution of Afzal Guru in front of the international community; I think it is the utmost responsibility of Pakistan", he said.
Jammu and Kashmir Liberation Front leader Yasin Malik shared a dais with Hafiz Saeed in Pakistan Monday creating a flutter in India and led to a demand for cancelling his Indian passport.
Saeed also claimed that the US-led forces in Afghanistan are almost defeated despite having sophisticated weaponry and other resources. "It is not the age of keeping nations suppressed like the US has tried to do in Afghanistan and India inside Kashmir. The retracing Afghans have made the world superpower to run, similarly the Indians troops will also leave Kashmir".
Saeed said that the presence of Americans in the region has badly affected the Kashmir cause, especially after the government of Pervez Musharraf deviated from the historic stance and presented new options.
"After US came to this region Islamabad was pressured to distance itself from the issue of Kashmir. Despite the new formula of President Musharraf and change in Pakistani polices, the brave nation of Kashmir did not leave their struggle. But the time is changed now and Pakistan will have to play its role to liberate Kashmir from Indian occupation."
Hafiz Saeed noted that the Kashmir dispute should be first resolved, before other issues like trade and visa policies. "I am not satisfied with the policy of Pakistan to extend hand of friendships towards India without resolving the issue of Kashmir."
Responding to a question about infiltration of Pakistanis into Indian side of Kashmir, Saeed said, "There is no need for Pakistani to cross over the border for jihad, as the native people of Kashmir are enough to fight their own struggle. Tens of thousands of Kashmiris are fighting for their freedom and we just need to morally and politically support them."