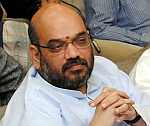 After top central Bharatiya Janata Party leaders endorsed Narendra Modi as the future prime minister, former Gujarat minister on Saturday backed the state chief minister saying he has "all the qualities" required for the top post.

Earlier, Sushma Swaraj and Gopinath Munde, during their visit to Gujarat, had said that Modi was fit and competent to be the prime minister.

"Whether he should be made PM or not, that the party will only decide. But I can say that Modi has all the qualities in him required to be a prime ministerial candidate," Shah, considered a close aide of Modi, said.

Shah is contesting elections from Naranpura constituency of the city, after being out on bail.
"We have able and successful leadership in the form of Modi," he said.
Shah is an accused in Sohrabuddin Sheikh and Tulsi Prajapati fake encounter cases. He returned to Gujarat after a gap of two years following the Supreme Court judgment allowing him to enter the state, rejecting the Central Bureau of Investigation plea to cancel the bail granted to him in the 2005 Sohrabuddin encounter case.
"The false case of the CBI against me is the biggest issue in my constituency," Shah said replying to a media query of cases against him and being given a ticket owning to close proximity with Modi.
"When the poll results are out you all will see that I shall win with landslide margin due to this reason only. Entire Gujarat knows that this case is false, and is politically motivated," he claimed.
"The case has been framed against me by misusing the CBI," he said.
Taking a dig at the Congress, Shah said that the party had no leader to project in Gujarat, which was a big issue in this assembly elections.
"Supposing if the Congress bags majority then who would be their leader... It is a very big issue," Shah said.    
Since his return to Ahmedabad, Shah had been engaged in electioneering activity, but keeping a low profile.
The CBI, in its chargesheet, named Shah as the kingpin in the Tulsi Prajapati fake encounter case. Acting on a petition filed by Shah, the apex court had stayed all the proceedings in the Prajapati case.
Shah is also vice-president of Gujarat Gujarat Cricket Association, headed by Modi.