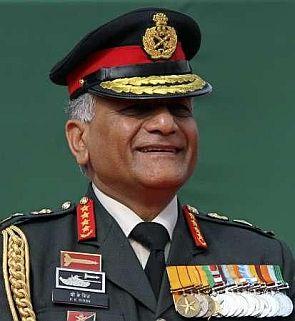 The Union government has taken serious view of the utterances of General V K Singh with sources in the government saying a high level investigation would be held on what the former Army chief has said.
Calling his utterances "anti-national", highly-placed government sources said it would not only give an impetus to Pakistan but also separatists who can use it to undermine the Indian system.

General Singh's statements on decisions taken during his tenure could invite court marshal, which would make it difficult for Bharatiya Janata Party's prime ministerial candidate Narendra Modi to have him by his side during election campaign meetings and rallies.

General Singh is also considering contesting the coming Lok Sabha elections and is reportedly looking at the BJP to provide him with a suitable seat preferably in Haryana.
While the inquiry to be conducted at the highest level could be by either the cabinet secretary or the defence secretary, sources said it has created problems in Jammu and Kashmir with Chief Minister Omar Abdullah having to defend his ministers since the impression has been allowed to gain ground that the political class in the sensitive Valley is a puppet regime controlled by New Delhi and that they are all for sale.
Government sources say that the General's utterances may set off a series of political explosions with a number of other disgruntled bureaucrats who have held sensitive positions speaking about decisions taken when they were in positions of power, a fact which can not only embarrass the government but also pose a security threat in some cases.
For this reason, the reasoning within the government is that it is necessary to nip this in the bud and send a strong message that the government would not allow such utterances to go unchallenged.

The army has virtually been the last bastion untouched by political controversy and now it looks like they have also been dragged into the political dirt, thanks to the indiscreet revelations of a disgruntled general who wanted an extension but failed to get one.
But there is also a flip side to the story, say sources.

The news report leaked to the Indian Express about General Singh setting up a technical services division in May 2010 under the controversial Military Intelligence unit, about the use of secret funds to destabilize the Omar Abdullah government, payoffs to an NGO to change the line of succession in the army top brass, etc would come up before the enquiry committee but the news leak itself would also need to be investigated, say government sources.
As a result of that report, General Singh gave an interview giving clarifications and further revealing information like the payoffs to J&K politicians.