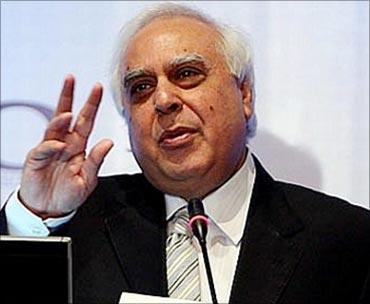 Amid increasing number of cyber attacks and snooping, the government on Tuesday announced the national cyber security Policy that aims to protect information and build capabilities to prevent such attacks.
The policy envisages periodic review of legislations to meet challenges from technology upgradation, a think-tank for cyber security policy inputs and international cooperation in area of cyber security. Releasing the policy, Telecom & IT Minister Kapil Sibal said critical infrastructure such as air defence system, power infrastructure, nuclear plants, telecommunications system have to be protected otherwise it may create economic instability.
The policy was unveiled amid recent reports of alleged snooping by the US globally. Sibal said the policy plans to operate a 24X7 national level computer emergency response team (CERT-In) to function as a nodal agency for coordination of all efforts for cyber security emergency response and crisis management.
It aims at creating a work force of five lakh professionals and build cyber security training infrastructure across the country through public-private participation.
"The policy is a framework document and it gives you a broad outline of what our vision is...the real task or the challenge is the operationalisation of this policy," he said.
"Air defence system, power infrastructure, nuclear plants, telecommunications system will all have to be protected to ensure there is no disruption of the kind that will destabilise the economy...instability in cyber space means economic instability no nation can afford economic instability, therefore it is essential not just to have a policy but to operationalise it," Sibal said.
The cyber policy was necessary in the wake of possible attacks from state and non-state actors, corporates and terrorists as the Internet world has no geographical barriers and was anonymous in nature.
Sibal said there will be multiple places from where cyber war could take place, it could involve individuals, sections of society, businesses, terrorists, drug dealers and those who want to generate violence.
He added it will not be able to point out to a particular country to say the source of the attack because it will difficult in the cyberspace to figure it out.
"In the ultimate analysis, we have to develop global standards because there is no way that we can have a policy within the context of India which is not connected with the rest of the world because information knows no territorial boundaries," Sibal added.
He said everything today is cross-border and efforts need to be channelised to corroborate to find what is that meeting ground which allows the citizens to be empowered and at the same time ensures that nation is safe.
"We don't know who attack our systems, so we have to ourselves secure our systems," Sibal added. In order to create a secure cyber ecosystem, the policy plans to set up a national nodal agency to coordinate all matters related to cyber security in the country with clearly defined roles and responsibilities.
It plans to establish a mechanism for sharing information, identifying and responding to cyber security incidents and for cooperation in restoration efforts.