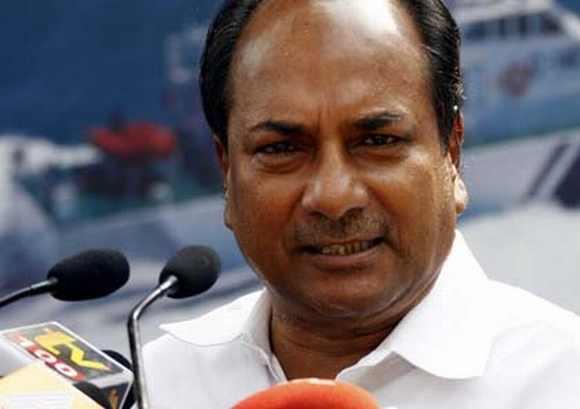 The government has impressed upon the Sri Lankan navy to act with restraint and not to fire on Indian fishermen sailing along the International Maritime Boundary Line, Defence Minister A K Antony told the Lok Sabha on Monday.
In written reply to a question in the House, Antony said, "The government continues to remain engaged with the government of Sri Lanka to ensure that fishermen on both sides can continue to pursue their livelihood in a safe, secure and sustainable manner."
The defence minister also said that the government attaches very high priority to welfare, safety and security of Indian fishermen. "From time to time, there have been reports of attacks and apprehensions on Indian fishermen near IMBL. As soon as reports of attacks on Indian fishermen are received, the government, through diplomatic channels, takes up the matter with the Sri Lankan authorities," he said.
Antony said the Sri Lankan government has denied involvement of their navy in these incidents. "Keeping in mind the humanitarian and livelihood dimensions of the issue, government has impressed on the Sri Lankan navy to act with restraint, not to fire on our fishermen and treat our fishermen in a humane manner," he said.
In reply to a question on security of fishermen arrested by Pakistan, Antony said that as on date there are reports of nearly 400 Indian fishermen in Pakistan custody.
"As per available information with the external affairs ministry, as on date, there are reports of nearly 400 fishermen, believed to be Indian, in Pakistan custody," he said.
On steps taken to release them, Antony said, a India-Pakistan Judicial Committee has been set up, consisting of retired judges from both countries to ensure humane treatment and expeditious release of prisoners, including fishermen, who have completed their prison term.