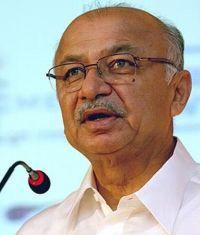 Punjab government's plea for clemency for Khalistani terrorist Devinderpal Singh Bhullar is under the Centre's consideration, Home Minister Sushilkumar Shinde said on Thursday.
"The chief minister of Punjab and the deputy chief minister met me and handed over a memorandum. They have given the same memorandum to the prime minister and the President. Their representation is under consideration," he told reporters.
Shinde was replying to a question on Punjab Chief Minister Prakash Singh Badal and his deputy Sukhbir Singh Badal's plea for clemency to Bhullar.
Asked whether the reported mental sickness of Bhullar will come in the way of his execution, Shinde said government will look into all aspects before taking any decision.
"We will look into all issues," he said.
The home minister also said family members of all death row convicts should be informed well in advance about the possible hanging and be allowed to meet them for a last time before the execution.
"The family should be informed but secrecy must be maintained," he said.
Asked why family members of Parliament attack convict Afzal Guru was not informed before his hanging, Shinde said that had happened due to "communication gap" which resulted in the delay of 4-5 days.
In their representations to the prime minister and the home minister, the Badals highlighted the poor health of Bhullar, saying under mentally unstable condition, no one should be hanged.
They also cited the split Supreme Court judgement which confirmed the death penalty imposed on Bhullar and said even Germany, from where Bhullar was extradited, had opposed death sentence.
The Supreme Court had last week dismissed the plea for commutation of Bhullar's death sentence to life imprisonment. The family of Bhullar had made the plea on the grounds that there has been "inordinate" delay in deciding his mercy plea by the President and that he is not mentally sound.
Asked how many mercy petitions were now pending with the government, the Home Minister said one mercy petition was pending with the Home Ministry while two were pending before the President.
On why the home ministry under his stewardship was so fast in clearing the mercy petitions, he said "we are habitual in clearing the backlog".