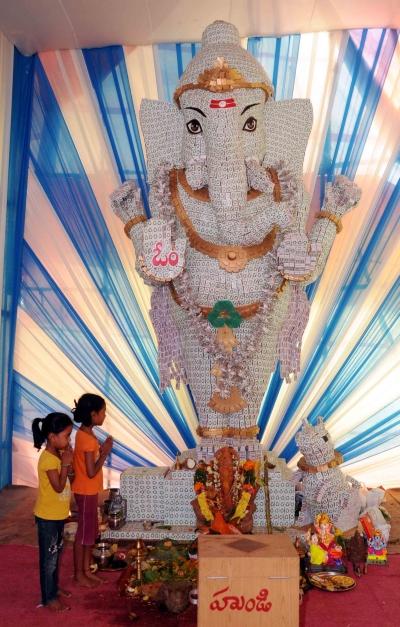 At a time when the immersion of Ganesha idols made of Plaster of Paris, chemical paints and other polluting materials has become a huge environmental challenge as well as a politically sensitive issue, especially in Hyderabad, an artist has taken up the task of sending an eco-friendly message.
A 15-feet idol made of biodegradable recycled matchboxes by artist Kandi Kuppa Suryprakash has become a huge attraction this year for its ingenuity.

Installed by the Navachaitanya Youth Association at Raghvendra Colony in Nacharam, an industrial suburb of Hyderabad, the statue is made up of one- lakh matchboxes.
"I wanted to send a message that you can celebrate the festival without harming the environment," said Prakash. He claims that the matchboxes are free of any harmful chemicals and are easily degradable if immersed in water.
Significantly, it has come at a time when the Andhra Pradesh high court had directed the state administration to work with pandal organisers in Hyderabad to ensure that the immersion of idols in the Hussain Sagar lake and other water bodies does not lead to any further increase in pollution levels.
However, the Ganesh Utsav Samiti of Hyderabad refused to cooperate with the administration on this issue by reducing the number of idols to be immersed in the historic lake.

Consequently, the high court has directed officials to ensure that all pollutants and the material used in making the idols were removed from the water within 24 hours of the immersion.
Thanks to the persuasive efforts by the administration over the last few years, devotees have opted for smaller idols made of clay and other bio- degradable materials.

In the Kavadiguda area of Secunderabad, locals have installed a 60-feet Ganesha made of clay and biodegradable material. They have announced that the idol will not be joining the mammoth procession for immersion in the Hussain Sagar lake, but will be immersed by pouring water over its heads.
Image: The idol installed at the Navachaitanya Youth Association at Raghvendra Colony in Nacharam is made of recycled matchboxes

Photograph:SnapsIndia