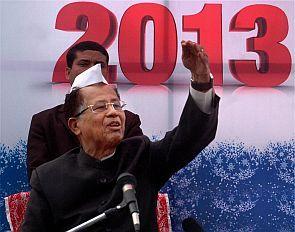 Indicating his decision to step down from leadership position, Assam Chief Minister Tarun Gogoi on Thursday said next year's Lok Sabha election will be the last in the state under his charge of Congress.
"This is going to be the last MP election under me. This time, Congress party will win record number of seats... I hope, it will be 12 out of 14 seats," 77-year-old Gogoi told a press conference.
The veteran Congress leader, however, said he would continue to contest assembly elections in the coming years. Asked specifically if this was the first step toward retirement from active politics, Gogoi, who has been chief minister for three consecutive terms since 2001, said "I am not taking any retirement now but one day you have to take that call. I am getting old. Age is an issue."
Gogoi, who started his career as a member of Jorhat municipal board in 1968, was elected to Lok Sabha for the first time in 1971. So far, he was won a total of six Lok Sabha elections.
Referring to the recent statement of Jamiat-i-Ulema-e- Hind leader Maulana Mehmood Madani, Gogoi said, "It is now clear that he has an understanding with (Narendra) Modi. However, this is not going to help Modi but rather hurt him."
Earlier this week, Madani had asked 'so-called' secular parties not to invoke the bogey of Narendra Modi to create fear among Muslim voters or woo them in a 'negative manner'.
On recent incidents of jail-break in the state, Gogoi said, "We will set up a committee to check any security lapse and it will suggest preventive measures."
Between September 9 and October 13 this year, seven incidents of jail-break took place including in Guwahati, Silchar and Karimganj, he added.