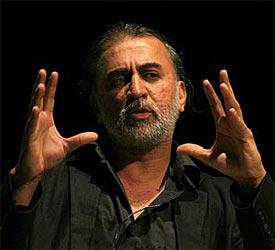 The Goa police on Sunday did not rule out the possibility of slapping fresh charges in the sexual assault case against Tehelka Editor Tarun Tejpal, saying many things have emerged in its probe.
At a press conference in Panaji at the police headquarters, Deputy Inspector General of Police O P Mishra said, "There are many things which emerged during the course of investigation...if additional charges are required, they will be added according to the development in the course of action."
In Delhi, a three-member Goa police team quizzed Tehelka Managing Editor Shoma Chaudhury and three employees who had been contacted by the victim to corroborate her version.
Contrary to reports, the team returned to Panaji without questioning Tejpal who may be contemplating moving court and seeking probe by an independent agency.
The police seized from Tehelka office a hard disc, transcripts of emails exchanged among Tejpal, Choudhury and the victim and other documents. Mishra said that the crime branch team that had visited Delhi, has examined Chaudhury and also taken into possession relevant documents.
"They have also seized certain electronic items during the investigation," the DIG added.
The police team, he said, has also "examined more people in the case." "After carrying out the first round of questioning, the team has left Delhi," he said, adding they will carry out further investigation.
Chaudhury was questioned for around nine hours from 4:45 pm on Saturday to around 2 am at the magazine's office in posh Greater Kailash-II in South Delhi. Her mobile phone, an iPad and her laptop were also screened by the police, according to police sources.
"On Saturday, at the Tehelka office, the Goa police took my deposition for about 9 hours, it was extremely courteous experience and I fully cooperated and showed every document that was relevant, every email exchange that was there between my colleagues, the management, it was shared, it was a good experience and I hope it helps bring clarity and justice to the entire case," Chaudhury said on Saturday.
Mishra said the police is yet to establish contacts with Tejpal, the accused in the case.
"As of now, we have not established contact with Tejpal. But we will proceed as per the standard protocol followed in such cases," he said. "At appropriate time, we will get in touch. But I will not tell you at what time we will be getting in touch with him," the DIG said.
The police, he said, has also taken cognisance of the content related to the case on the social networking websites. "There are many more things which are emerging related to various portions of the e-mail and other things related to this case," he said.
"It is coming out on social websites and at many places. We must understand that there is a broad principle and protocol that is followed when we are investigating the cases like sexual assault and in this case the sensitivity of every stakeholder, including people who are reporting this, is very important," he said.
The DIG said that some of such actions (posts on social networking sites) may have criminal implications.
"We have taken note of these developments and are verifying that. In the due process of investigation, we will not hesitate to take action if certain violations take place," he said.
Responding to a question whether Hollywood actor Robert De Niro, whose name is mentioned in the FIR as the girl was coordinating with him, would also be questioned, Mishra said, "When we investigate the case, there are many things that emerge and whose statement we need to take that would be done."
The legendary actor was in Goa to attend the Tehelka Thinkfest, a high profile conference at a five star resort, where Tejpal had allegedly sexually assaulted his colleague twice in an elevator.
The legendary actor was in Goa to attend the Tehelka Thinkfest, a high profile conference at a five star resort, where Tejpal had allegedly sexually assaulted his colleague twice in an elevator.
Mishra said the team had not established contact with Tejpal at this stage.
"I will not share any minute detail that will hamper the investigations," he told reporters, adding "we are proceeding in the right direction".
Mishra said many things were coming out in the social media which were against the broad principles followed in sexual assault cases. The media, he said, should realise the sensitivity involved in this case and do nothing which hurts the dignity of the victim.
He also warned that there were "criminal implications" of such reporting. "We have taken cognizance of this and we will not hesitate to take legal action".
The woman journalist had mentioned the names of her three colleagues, with whom she had interacted soon after the alleged assault happened at a Goa hotel lift around a fortnight ago, in her complaint and said Chaudhury could corroborate the incident from them.
Earlier in the day, the Goa crime branch team led by Deputy Superintendent of Police Sammy Tavares recorded statements of the three colleagues of the victim.
The recording of statements of the three journalists at the Goa Sadan in Delhi started at around 9 am and continued for more than four hours.
They left Goa Sadan at around 1:45 pm and refused to talk to media persons. According to highly-placed sources in the Delhi police, the Goa team, which also included Investigating Officer Sunita Sawant, did not have on its agenda questioning or arrest of Tejpal during this trip.
"They have contacted the victim and requested her to record her statement in the case. They have also asked her to file an official complaint in this matter," the sources said.
Replying to a question about Tejpal's arrest, the sources said that if the victim files a complaint, Tejpal would be arrested immediately.
"But unless that happens, Goa police team will want to tick all boxes before arresting Tejpal," the official said. The police will try to improve its case before initiating any action against Tejpal, he added.
Delhi police sources said the Goa police questioned Chaudhary about when the issue first came to her knowledge and about the sequence of events. Media reports quoted Tejpal as saying that the victim is lying and that he is being framed. He also alleged that "political forces are driving much of it."