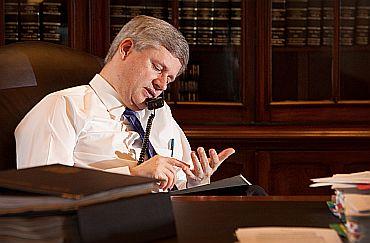 Canadian Prime Minister Stephen Harper had a telephonic conversation with his Indian counterpart Dr Manmohan Singh on Monday morning about preparations and priorities for the Toronto G20 Summit to be held at the Metro Toronto Convention Center on June 26-27. 
According to a statement from Harper's office in Ottawa, "both leaders agreed on the importance of implementing previously agreed to G-20 commitments to restore the health of global economy, while also taking steps to lay the foundation for strong, sustainable and balanced growth in the future."
The two leaders, official statement said, also noted the importance of implementing clear and realistic plans for fiscal consolidation, and exchanged views on other areas where G-20 actions have been, and remain, vital, including financial sector reform.
Canada and India are on the same side insofar as their opposition to levying taxes on banks to keep money in reserve if in future there's repetition of 2008 and 2009 global downturn and failure of a number of financial institutions that needed billions of dollars of stimulus from the tax payers' money.
That, however, didn't happen either in Canada or in India where there are strict regulations that wouldn't permit any banks and financial institutions to play with the depositors' money.
Their emphasis during the summit is likely to be on controlling deficit.
It may be noted that Harper is laying a great deal of emphasis on working very closely with his Indian counterpart during the G-20 summit and that explains why he's hosting a dinner only in honour of Dr Singh on June 27 at the Harbor Castle Westin Hotel in Toronto.
Meanwhiled, during his brief remarks at the Indo-Canada Chamber of Commerce gala and award night on June 12, held in the Metro Toronto Convention Center, where G-20 leaders would meet, Indian High Commissioner S M Gavai said that when Canadian and Indian prime ministers meet for the G-20 Summit, they will also find time to 'sign some important agreements which will carry the relationship (between the two countries) forward.'
Informed sources said that the two sides have now approved the final draft of the civilian nuclear agreement and it is all ready to be signed by the two prime ministers.
Amongst other things, the agreement will also provide for export of a considerable quantity of uranium from Saskatchewan to India.
So, even though Dr Singh is traveling to Toronto for the multilateral summit, at the end of G-20 on June 27, it will turn into a bilateral summit between the two leaders. 
They will, from all indications, sign a series of agreements, including one that is a follow-up to the study on comprehensive economic cooperation.
The study, which is the result of an memorandum of understanding that was signed on November 18 last year during Harper's visit to India, has been completed and the two countries will now move forward that may result in their signing the  comprehensive trade agreement (which is going more farther than a mere free trade agreement). 
There's also an indication of the two countries signing the social security agreement, details of which are not available, is ready to be signed. 
It may come as a disappointment to the business community that there are still a few hickups in the two countries singing the 'Foreign Investment Protection Agreement' as the Cabinet in two countries hasn't as yet approved it.  This draft agreement is in the work for over four years.
There will be smiles on the faces of the Canadian and Indian leaders when they appear at Toronto's Royal York Hotel June 27 evening for a formal dinner that Harper is hosting in honor of the Indian Prime Minister.
Over 350 guests are likely to be invited, but, may be for security reasons, no invitations have gone as yet.  But the prime minister's office and the Indian high commission are suggesting names of half of the 350 guests. 
And the Indian high commission, sources said, have asked organisations like the Indo-Canada Chamber of Commerce, Canada-India Business Council, Canada-India Foundation, etc. to suggest some names.
Harper's office has also asked some of the Conservative MPs and Senators to suggest names.
This event thus has also become a hot-ticket as Singh hasn't accepted any other social engagement.  Indian diplomats in Toronto confide, "It is a flying visit for the PM."
He is arriving in Canada on June 25 and possibly returns to India on June 28. 
Image: Canadian Prime Minister Stephen Harper speaks to Dr Manmohan Singh on phone
Photograph courtsey: Canadian PMO